Ranking the Arizona Cardinals 2019 rookies off of their NFL comparisons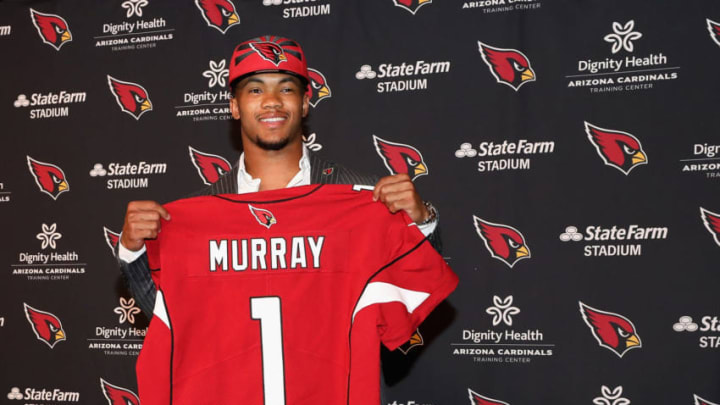 (Photo by Christian Petersen/Getty Images) Kyler Murray /
HADLEY, MA – SEPTEMBER 17: Andy Isabella #23 of the Massachusetts Minutemen scores a touchdown during the second quarter against the FIU Golden Panthers at Warren McGuirk Alumni Stadium on September 17, 2016 in Hadley, Massachusetts. (Photo by Tim Bradbury/Getty Images) /
4. Andy Isabella
Player comparisons: Phillip Dorsett (Lance Zierlein), Marquise Goodwin (Matt Miller), T.Y. Hilton (Jim Nagy, Eric Edholm), Brandin Cooks (Jim Nagy)
Brandin Cooks; nice, Marquise Goodwin; not bad, T.Y. Hilton; wow, awesome, Phillip Dorsett; wait, what? Former UMass deep threat has shed the Patriots' ideal model for a slot comparison, but, he hasn't won over all of the media draft pundits — an obvious statement considering his Dorsett comparison.
However, for the most part, Isabella has been compared favorably to high-profile, speedy, deep threat options. Considering his 4.31-second 40-yard-dash result, it's not too difficult to see why. Matt Miller of Bleacher Report compared him to 49ers' speedster Marquise Goodwin, saying;
"The Marquise Goodwin comparison is too easy, but it's also true. Isabella has the same quickness to destroy teams underneath and work intermediate areas. He's also a returner. His film and Senior Bowl performance didn't bring up many concerns, either."
Cardinals fans should be familiar with Goodwin due to his time in San Francisco. He's oft-injured and is undersized, but he has Olympic speed (literally), can create separation with quick feet, and is a deep-ball menace. If he turns out to be a healthier Goodwin, the Cardinals would have a steal for the pick acquired in the Josh Rosen trade.
I tend to compare Isabella closer to Senior Bowl director Jim Nagy's answer; both Brandin Cooks and T.Y. Hilton. Both have proved to be reliable options not just due to their speed, but for their toughness and pristine vertical route-running. Again, if he turns out like either, the Cardinals should be more than pleased.
As for the Phillip Dorsett comp, it's understandable but may be an undersell of Isabella. In my humble opinion, this would essentially be his floor, which Zierlein often bases his predictions on.