Dave Meggyesy- the first anthem protestor, advocator for many player issues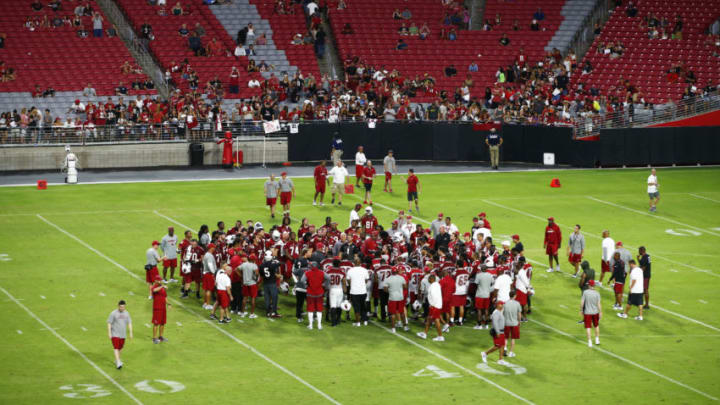 Jul 22, 2017; Glendale, AZ, USA; The Arizona Cardinals huddle during the opening day of training camp at University of Phoenix Stadium. Mandatory Credit: Rob Schumacher/azcentral sports via USA TODAY NETWORK /
FInally getting national attention /
FInally getting national attention
Dave Meggyesy appears on the Dick Cavett show to talk about his book.
Dave Meggyesy gave an ultimatum for college football players: Get them paid, but don't let them get away with legal troubles
Growing up in a town where the cows from nearby farms would become spectators during his high school football games, Meggyesy believed that America had begun to glorify violence, and that football was one of the many ways. Meggyesy appeared on the Dick Cavett Show, and spent about 20 minutes discussing the book he would end up writing, "Out of their League" with Cavett.
In the previous linked clip, Dave Meggyesy covered on how he felt exploited during his college days at Syracuse saying that college football players are making "25 cents per hour". Their exploitation in the game of football was rewarded in the fact of as long as they produced, that they could get away with anything. Which depending upon one sees it, hasn't changed much itself. Do we really still see college and NFL stars get off the hook? Especially white players- something that Meggyesy contributed to no one paying much attention to his protests mentioned earlier.
Meggyesy also detailed in that interview with Cavett how one of his former Syracuse teammates chucked an 8 lb. bowling ball at the head of the dorms' RA (resident assistant), which broke a window and fell out the building to the ground and wasn't punished at all for it.
How would this have been different had Urban Meyer and the University of Florida coaching staff had kept closer tabs on Aaron Hernandez? The family of Odin Lloyd would surely like to know. While Hernandez is of Hispanic descent, the statement still holds true. Sometimes it seems like athletes can get off the hook, but in this case Hernandez didn't. .
Meggyesy also had a indirect hand of NCAA players compensation/unionization movement (guys like Northwestern quarterback Kain Colter come to mind) as his public comments about getting collegiate players paid would pay off way later. Ultimately, SB 206 was passed in California which finally let players profit off of their likeness and it has grown from there.