3 Favorable Matchups: Arizona Cardinals vs. Los Angeles Rams – Wild Card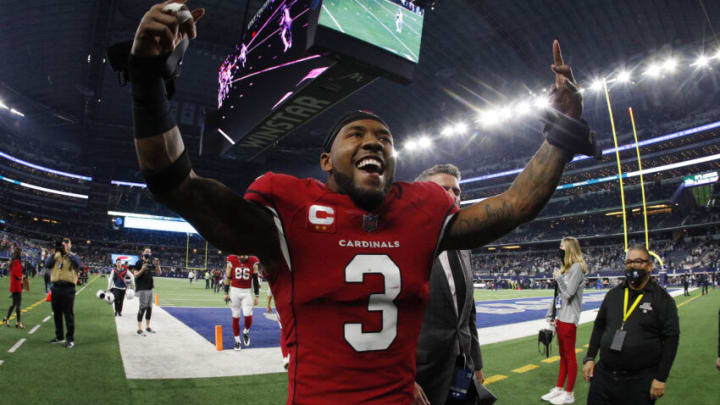 (Photo by Richard Rodriguez/Getty Images) Budda Baker /
(Photo by Richard Rodriguez/Getty Images) Kyler Murray /
Conversion Percentage
As far as red zone scoring goes, the Cardinals and Rams are almost evenly-matched, with both teams scoring touchdowns in the red zone 60 percent of the time. However, the Cardinals hold an edge in third and fourth-down conversions, meaning they have a better chance at sustaining drives in this matchup.
The Cardinals converted 45.2 percent of all third downs in 2021, and the Rams sit over one percent behind them at 43.9 percent. Both teams rank in the top-10 in third-down conversion rate, but the Cardinals were one of just seven teams in the NFL to have converted at least 100 third downs. Percentage-wise, they were sixth in the NFL and second only to the Philadelphia Eagles in the NFC.
The Cardinals also led all 14 playoff teams in fourth-down conversion attempts with 29. They converted 17 of them, equating to a 58.6 percent conversion rate. The Rams, in the same category, finished 10-for-19 with a 52.6 percent conversion rate.
The Cardinals also hold the edge on defensive fourth-down conversions allowed at 46.7 percent over the Rams' 53.1 percent. The Cardinals' defense also allowed just 38.2 percent of all third-down conversions, while the Rams' defense allowed 41.3 percent.
Both teams had near-identical numbers of conversions attempted, with opponents attempting 30 fourth-down conversions on the Cardinals and 32 on the Rams. As for third downs, the Cardinals faced 207 attempts and the Rams, 223.
In the playoffs, teams may game plan differently and will take more chances with the season on the line. If this becomes the case on Monday night, rest assured the Cardinals hold an edge over the Rams in the conversion department.