Arizona Cardinals vs Dallas Cowboys: National Anthem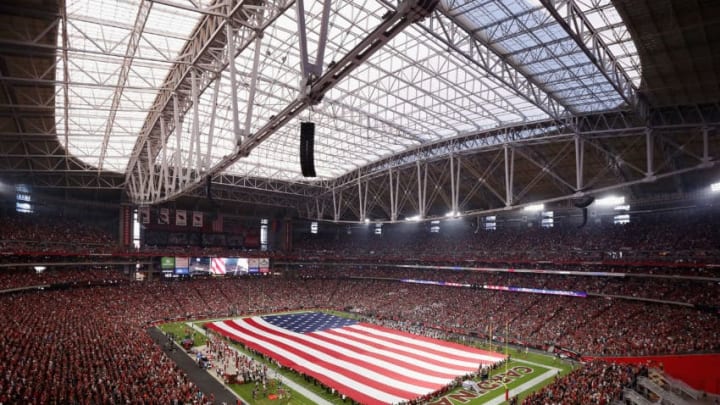 GLENDALE, AZ - SEPTEMBER 11: The american flag is draped across the field for the national anthem to the NFL game between the Arizona Cardinals and the New England Patriots at the University of Phoenix Stadium on September 11, 2016 in Glendale, Arizona. (Photo by Christian Petersen/Getty Images) /
The Arizona Cardinals have not publicly said as a team how they plan to handle the national anthem on Monday night
The Arizona Cardinals and Dallas Cowboys are the last two teams to take the field in week three of the 2017 NFL season.  It was a polarizing Sunday in the NFL when it came to the national anthem.
With President Trump's comments over the weekend saying players should stand for the anthem or be fired, it set off a firestorm of controversy.  Each NFL team handled the anthem in different ways on Sunday.
Some players sat, many teams locked arms.  Three teams decided not to come out at all for the anthem.  Certainly there was division in opinion on whether that was the right thing to do or not.
The Cardinals and Cowboys have not said what they plan on doing on Monday night.  The Cowboys likely will be standing.  Owner Jerry Jones voiced his concern previously over the matter and prefers his players stand.
He has not publicly re-iterated that stance over the last couple of days however.  He's been silent. As for the Cardinals, we aren't sure what they plan on doing.
More from Raising Zona
Coach Bruce Arians did come out against Trump's comments in his press conference on Saturday. There was no word from the Cardinals on Sunday.  There was a general statement from team President Michael Bidwill on being proud of his team.
Here is what we do know.  Agree or disagree with Trump's comments and whether one should stand or be able to kneel during the anthem, the fact is this is a country built on certain freedom. One of those freedom's is the right to decide how one will act during the singing of the national anthem.
While there are those that disagree with not standing during the anthem, let's not forget the players have the right to kneel, stand, or not be present.  Many organizations supported their players actions publicly.
While I argue that players should be standing and be present for the anthem, they do have the right to kneel.  They have the right to stand up to social injustices. They should not worry about facing persecution from the President or their employer for doing what they believe in.
We will see what the Cardinals and Cowboys decide to do Monday night.  Whatever is decided upon we must accept.  We do not have to agree with their actions but we do need to respect their right to take whatever actions they deem appropriate.