State Farm here to help life go right for Arizona Cardinals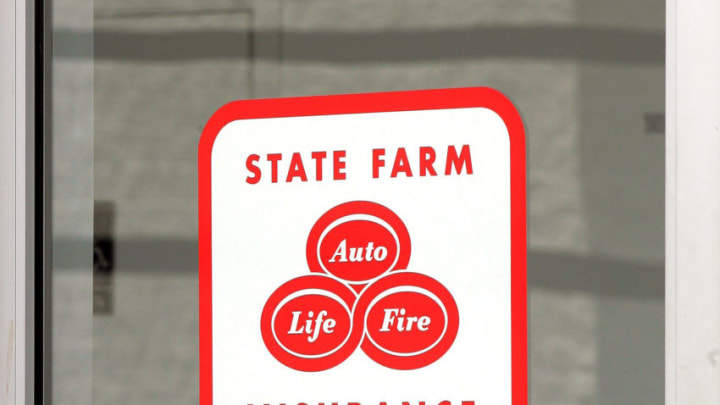 PALATINE, IL - AUGUST 30: State Farm Insurance signage is seen on a door of an auto claim center August 30, 2005 in Palatine, Illinois. Damage from Hurricane Katrina may destroy previous records regarding insurance claims, possibly reaching $26 billion, impacting insurers such as Allstate and State Farm. (Photo by Tim Boyle/Getty Images) /
Being a good neighbor has paid off as State Farm is now the new sponsor for Arizona Cardinals and their stadium in Glendale
Their motto is like a good neighbor and here to help life go right.  State Farm started an 18-year marriage with the Arizona Cardinals on Tuesday for naming rights to the stadium formerly known as University of Phoenix Stadium.
As of today it will now be known as State Farm Stadium.  The announcement was made Tuesday morning at an 11:00 a.m. press conference, although the news was leaked via team statement earlier.
Taking a poll of fans around most seem to be alright with the name.  The general feeling is it could have been worse.
It certainly could have been worse.  I'm just happy it's not another casino.  As much as I love the local casino's and what they do for the Valley and state, there is already enough of that going around with other teams.
News leaked out Monday night that a big announcement was coming.  Some believed it was going to be a player announcement.  However having the announcement at the stadium itself should have been a dead giveaway.
State Farm is one of the more recognizable brands out there.  Just last week they also gained the naming rights for the NBA's Atlanta Hawks arena.  That will be aptly named State Farm Arena.
So, for the next 18-years at least, the Cardinals are going to play under the roof of State Farm Stadium.  The color matches too.
Some have already put the question out there what should the nickname of the stadium be.  Several responses, myself included, figured before long it will be known as "The Farm".
The name becomes official today.  There is no waiting period on this.  Most of the signage will be in place in time for the Cardinals home opener on Sunday.  Hopefully the saying as it is for State Farm will hold true for the team, life will go right for them in 2018 and beyond.