Arizona Cardinals could pursue Grady Jarrett in free agency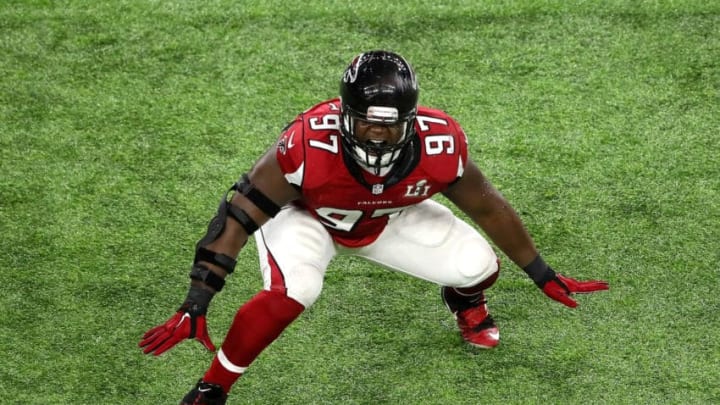 HOUSTON, TX - FEBRUARY 05: Grady Jarrett #97 of the Atlanta Falcons reacts after a sack in the first quarter during Super Bowl 51 at NRG Stadium on February 5, 2017 in Houston, Texas. (Photo by Ezra Shaw/Getty Images) /
A dominant defensive tackle could hit the open market, and the Arizona Cardinals would be wise to pursue him considering their team need at the position.
Alongside Aaron Donald, Grady Jarrett has continued to buck the trend that shorter interior defensive linemen can't be productive in the NFL. Whether it is stuffing the run at nose tackle, or rushing the quarterback as a defensive end, Jarrett is proving that he is an unblockable force in the NFL despite being 6 feet tall.
Luckily, for all NFL teams including the Arizona Cardinals, Jarrett could hit the open market as the Falcons have yet to retain the coveted free agent. D. Orlando Ledbetter of the Atlanta Journal Constitution reported that the Falcons are "not close" to a long term deal with the talented defensive linemen.
If the Falcons were to use the expected $15.4M franchise tag on Jarrett, the Falcons could put themselves in financial trouble as they would have $7M in projected cap space remaining, per Over The Cap, which would nearly pay for the cost of their 2019 rookie contracts.
While playing 14 games for the Falcons in 2018, the soon to be 26-year-old posted career bests nearly across the board. He had 52 total tackles, 16 quarterback hits, six sacks, eight tackles for loss, and three forced fumbles.
When looking at his advanced statistics, Pro Football Focus found that he was one of the most productive players in the NFL in 2018. He earned a 91.0 overall grade — fifth best for all interior defensive linemen while their analysis team was not short of compliments either, as they said;
"Jarrett finished the 2018 season ranked fourth in pass-rush win percentage (16.6) and sixth in pressure percentage (12.3), recording 71 pass-rush wins and 53 total pressures in the process. His pass-rush ability on third down was particularly impressive, as he recorded the third-ranked win percentage (21.8) and second-ranked pass-rush grade (90.1) on third downs throughout the regular season. Any team that is in need of a dominant pass-rusher on the interior would be wise to dial Garrett's number this offseason."
Pro Football Focus also gave Jarrett some love as a run stopper, as he earned an elite 90.0 run-stop grade. Their own Austin Gayle noted his percentages, and ability to win while stopping the run, as he mentioned;
"Jarrett also ranked inside the top-10 in run-stop percentage (9.7%) and ninth in percentage of run-defense snaps where he was the first to make contact with the ball carrier (14.4%). He avoids blocks with the best of them largely because of his burst of the snap and violent hand technique."
If, and by all means, that's a big if, the dominant defensive lineman hits the open market, Bill Bidwill's Arizona Cardinals would be wise to open up his often closed pocketbooks for Jarrett's services. Not only would he be an excellent counterpart to Chandler Jones, but he could also fit seamlessly alongside either Nick Bosa and Quinnen Williams, two prospects in consideration to go number one overall to the Cardinals.
By switching the Cardinals defense to new defensive coordinator Vance Joseph's 'attacking' 3-4, adding talent that can rush the passer individually and stop the run from the interior is necessary. Jarrett has been playing in a similar scheme at Atlanta, which could make the two a perfect match.
The franchise tag deadline, which is at 4 P.M. ET on Tuesday, March 5th will be a date to watch for in terms of the Grady Jarrett sweepstakes. If he doesn't get the tag, the Cardinals will have a shot to pursue him in the open market.
For more grades, advanced statistics and more at Pro Football Focus, subscribe
to PFF's EDGE or ELITE subscriptions at ProFootballFocus.com.