Led by Christian Kirk, the Arizona Cardinals future at wide receiver looks promising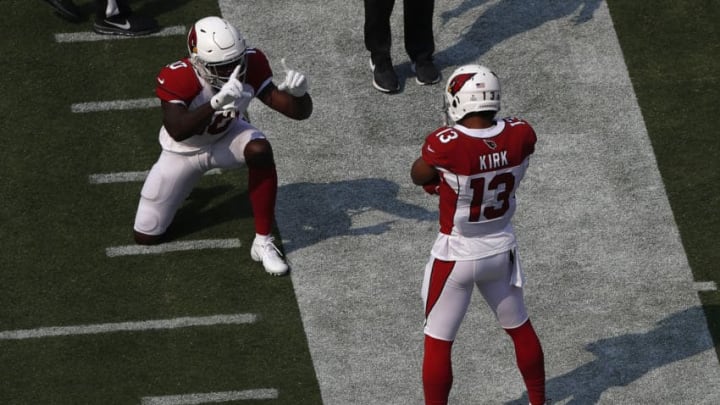 SANTA CLARA, CA - OCTOBER 07: Christian Kirk #13 of the Arizona Cardinals celebrates after a 75-yard touchdown against the San Francisco 49ers during their NFL game at Levi's Stadium on October 7, 2018 in Santa Clara, California. (Photo by Jason O. Watson/Getty Images) /
Led by Christian Kirk, the Arizona Cardinals receivers should easily lap the production of last year's group.
If you told me a month ago that the Arizona Cardinals' wide receiver corps would be one of the bright spots of the team, I'd ask to know what you were smoking. One of the biggest criticisms of the 2018 team was that the receivers outside of a 35-year-old Larry Fitzgerald and the rookie Christian Kirk were more than disappointing. It's hard to see the fault in that argument.
The combination of Fitzgerald, Kirk, and David Johnson scored 12 of the team's receiving touchdowns. The other three touchdowns came from Chad Williams (37.0% catch rate), Trent Sherfield (UDFA), and Ricky Seals-Jones (career 47.4% catch rate). Not. Ideal.
Luckily, the duo of Keim and Kingsbury cracked the case to all their receiving anxieties. They added two receivers in free agency and another three in the draft; they also signed two veteran tight ends and drafted another. The result isn't just a much better supporting cast. It's true potential at the position for the first time in a long time.
Let's compare last year's opening day depth chart to my projected one for next year. I expect the Cardinals to start the year with seven receivers, as Kingsbury's offense is more pass-happy than McCoy's, to say the least.
*Without consideration for the slot, the three with (s) are the three likeliest options to see considerable time at the position next season.
* The Cardinals had just five week-one receivers, the next two are players that were featured throughout the season.
18: Larry Fitzgerald (s)   19: Larry Fitzgerald (s)
18: Chad Williams           19: Christian Kirk (s)
18: Christian Kirk             19: Kevin White
18: J.J. Nelson                   19: Andy Isabella (s)
18: Trent Sherfield          19: Hakeem Butler
18: Jalen Tolliver              19: KeeSean Johnson
18: Pharoh Cooper          19: Trent Sherfield
You'll notice a lot of familiar faces gone, including Chad Williams, Pharoh Cooper, and Jalen Tolliver; all three I expect to be cut. Although the team added Damiere Byrd in free agency, I don't expect him to be on the roster after the draft. With Kirk and draftee Andy Isabella in the fold, there shouldn't be a need for two more return specialists.
The real intrigue of the receiver corps is in the rookies and sophomores — Christian Kirk, Andy Isabella, Hakeem Butler, and KeeSean Johnson. All four have skillsets ideal for the Air Raid, whether it be inside or out;
Christian Kirk: 5-foot-11 versatile inside or outside receiver that will produce yards via YAC, speed, route-running, and good hands. He proved to be dynamic (and productive) in his rookie year. He tallied 43 receptions (63.2% catch rate) for 590 yards and three scores.
Andy Isabella: 5-foot-9 inside deep threat with serious speed, and explosive footwork to switch outside. He compares favorably to the T.Y. Hiltons of the world.
Hakeem Butler: 6-foot-5 outside threat that will either burn cornerback or beat them on a contested catch. Before the draft, he was even compared to Calvin Johnson and earned many first-round grades.
KeeSean Johnson: 6-foot-1 outside receiver with the game to flip inside. He's not a freak athlete, but he's a smooth athlete with a pro-ready game and natural feel for the position.
All four of these receivers were selected in the last two drafts and are all 22 or younger. Their composite average of their 40-yard-dash is 4.47 seconds, take out Johnson's 4.60, and it's 4.42 seconds. Simply put, to go along with the four's impressive film is serious speed and youthfulness.
As for Kevin White and Trent Sherfield, both are high-upside, low-risk options for the team that can thrive in the Air Raid. For instance, White's production in Dana Holgerson's Air Raid earned him the status as the No. 7 overall pick in 2015. Though injuries have riddled his career, White is an athletic marvel, and at 26 years old, he has more than enough time to get his career back on track.
Sherfield may be an underdog to make the roster, but he showed more as an undrafted free agent than Williams, Nelson, Toliver, or Cooper did last season. In just two starts, he recorded 19 receptions (67.9% catch rate) for 210 yards and two touchdowns. The four previously mentioned had 27 receptions (38% catch rate) for 272 yards and one touchdown, combined.
Although a bit of an unknown, Sherfield is an exciting prospect. Coaches have raved about his football IQ, and his 6-foot-1, 219-pound frame coupled with a 4.45 second 40-yard-dash, are ideal testing results. Sherfield could prove to be a diamond in the rough, or solid depth.
Combining those six receivers with an average age of 22.6 makes and you have a more than promising receiver depth chart. And voila, that's how you rebuild your receiving room.
As for the 35-year-old Larry Fitzgerald, well, you know about him.