Arizona Cardinals hoping rookie mimics predecessor's success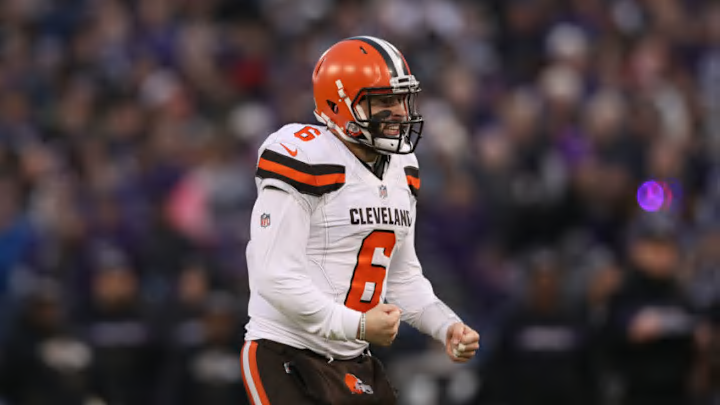 BALTIMORE, MARYLAND - DECEMBER 30: Quarterback Baker Mayfield #6 of the Cleveland Browns reacts after throwing a touchdown in the first quarter against the Baltimore Ravens at M&T Bank Stadium on December 30, 2018 in Baltimore, Maryland. (Photo by Rob Carr/Getty Images) /
The Arizona Cardinals would be thrilled if rookie quarterback Kyler Murray is able to follow in the footsteps of Baker Mayfield
The Arizona Cardinals were one year too late. If only they had owned the first-overall pick of the draft in 2018,  quarterback Baker Mayfield would've been their's. Arizona is now hoping that their own first-overall pick, Kyler Murray, can duplicate in 2019 what Mayfield did for the Cleveland Browns as a rookie.
The Cardinals, for the most part, have not had a ton of luck during their decades of existence as a franchise. The fact that they were just one draft away from making the dynamic Mayfield their own is just another unpleasant reminder of their long-standing misfortune. Whether Murray will turn out to be a better player than Cleveland's new leader will be determined later on, but the odds certainly seem stacked against him.
The main factor working against Murray is his lack of size (5'10, 207). No signal-caller that small has ever found success in the NFL. Arizona obviously believes that Murray will be the exception to the rule, so the fans can only hope that the braintrust is right.
There were similar questions about Mayfield prior to last year's draft. But at six feet one, the 2017 Heisman Trophy winner is a full three inches taller than the tiny Murray. A huge difference in height in the world of professional-level passers.
Mayfield was nothing short of spectacular during his first pro campaign. The Browns' gunslinger completed 63.8% of his throws for the snakebitten team, accounting for 3,725 yards and 27 touchdowns through the air. Mayfield played in just 14 games (13 starts), so his numbers would've been even better if he had played in all 16 matchups.
Ironically, Murray and Mayfield were once teammates at the University of Oklahoma. The Cardinals rookie watched from the sidelines when his predecessor threw for 4,627 yards and 43 scores in '17. Murray followed up Mayfield's outstanding performance a year later, accounting for 5,362 total yards and 54 total touchdowns in '18
The Cardinals will be jumping for joy if Murray can mimic Mayfield's rookie success. A mid-December matchup between the two this upcoming season will be a fun one to watch. It will also be an opportunity for Murray to show Arizona that they got the better player after all.