Carson Palmer deserves Arizona Cardinals Ring of Honor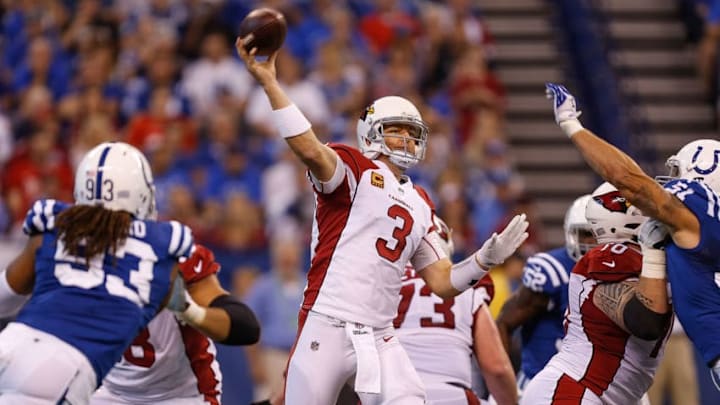 INDIANAPOLIS, IN - SEPTEMBER 17: Carson Palmer /
The Arizona Cardinals announced that former quarterback Carson Palmer would be inducted into the Ring of Honor this season
I suppose it makes for a good debate.  However should there be one for the induction of former Arizona Cardinals quarterback Carson Palmer into the team's Ring of Honor?
Well, that's what we are faced with today.  The club announced that Palmer, who played five seasons in Arizona, will be this season's inductee.  He will be inducted in the week four home game September 29th against the Seattle Seahawks.
Some believe that because he didn't win a Super Bowl here, he shouldn't be honored.  Ok, but who has won a Super Bowl with the Cardinals?  None of the other 17 in the Ring of Honor have.
His numbers speak for themselves.  He went 38-21-1 in his five seasons, two of which ended prematurely.  He only started six games in 2014 before an ACL injury.  He only started seven games in 2017 due to an arm injury.
He threw 105 touchdowns and 57 interceptions, 22 of which came in the first season in Arizona while still learning Bruce Arians' offense.  He threw for 16,782-yards.
What he also did was lead the Cardinals to the playoffs.  Although he only got to play in one of those playoffs, one of his greatest memories here should be his game-winning overtime drive against the Green Bay Packers in January 2016.
He lead the Cardinals to a 13-3 record in 2015, after going 6-0 in his starts in 2014 that ultimately lead to a playoff appearance in the wild card game.  The Cardinals got a first round bye in 2015.
So although he didn't have a long history of winning in the desert, he did do a lot to put the Cardinals back on the map after three lean seasons following consecutive playoff appearances in 2008 and 2009.  This is why Palmer is being honored.
You don't have to be a Super Bowl champion or even an MVP to end up in the Ring of Honor.  Yes, the play on the field helps but it is also what one did for the organization.  There is no overstating the fact Palmer helped re-ignite Birdgang.
What was originally going to possibly be a stop-gap situation almost turned Palmer into an MVP in 2015.  Sure, he had help but in a quarterback-driven league he deserves much of the credit.