Arizona Cardinals part of interactive Super Bowl Experience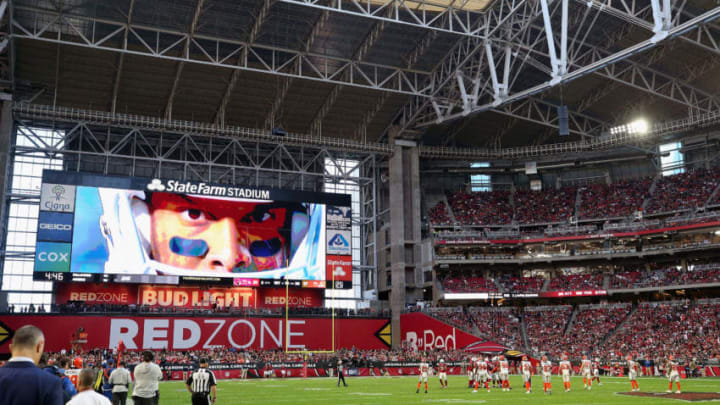 GLENDALE, ARIZONA - DECEMBER 15: Wide receiver Larry Fitzgerald #11 of the Arizona Cardinals is honored on the video board during the NFL game against the Cleveland Browns at State Farm Stadium on December 15, 2019 in Glendale, Arizona. The Cardinals defeated the Browns 38-24. (Photo by Christian Petersen/Getty Images) /
All 32 NFL teams, including the Arizona Cardinals will be on display during Super Bowl week in Miami
About the only good thing for the 30 teams not in the Super Bowl this year, is that they are all represented in same fashion or another during the week leading up to the game.  This year's Super Bowl is in Miami.
The Super Bowl Experience is going to feature an Arizona Cardinals "home" in Lowe's Hometown display.  To be honest I had not heard of this until recently.
The Cardinals displayed home of course has a cactus, a football field, and a western themed look.  There's even a bit of a State Farm Stadium intermingled.
In the above link, you can see all 32 teams in the interactive set.  Can't help but be a little proud of what the Cardinals "home" looks like.
Lowe's used six tons of their Top Choice Lumber to build all of the dwellings.  It will take 8 semi-trucks to deliver the dwellings from the construction site in North Carolina to to Super Bowl site in Miami.
I don't share a lot of things that come our way in regards to sponsors, but this one was cool.  Certainly next season I'm sure we'd all love to be focusing a little more on the game than sponsors or Experience themes.
Every dwelling that Lowe's built incorporated team logo's, colors, and characteristics of the team's region.  They hit the nail on the head for the Cardinals.
Super Bowl LIV is going to take place on Sunday February 2nd in Miami at 4:30 p.m. Arizona time.  Hopefully some of you are able to make it to Miami for the game or at least the experiences leading up to.
Super Bowl LVII will be in Glendale again in 3 years.  It was a lot of fun the last time it was here.  Hopefully by the time the next Super Bowl gets here to Arizona, the Cardinals will be the first NFL team to play the game in their own stadium.