Arizona Cardinals offensive line will be deciding factor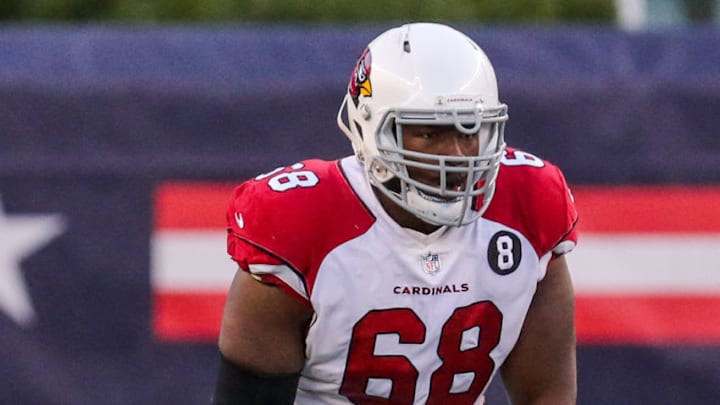 Nov 29, 2020; Foxborough, Massachusetts, USA; Arizona Cardinals offensive lineman Kelvin Beachum (68) against the New England Patriots at Gillette Stadium. Mandatory Credit: Paul Rutherford-USA TODAY Sports /
After seeing what the Giants defensive line did to Seattle last week, the Arizona Cardinals offensive line has their work cut out for them.
With the team now on the outside looking in, the Arizona Cardinals have reached the most critical part of their season. With the final four games left and only one game out of the final wildcard spot, the offense needs to be firing like it was earlier this season. The men up front will face a surging Giants team led by Joe Judge.
Judge came from relative unknown status when he got the job back in January. After starting 1-7, they've reeled off 4 straight wins and now has the team at first place in the NFC east, a large part due to Leonard Williams having a phenomenal season during a contract year. Williams even garnered the NFC's defensive player of the week award.
The Giants used Williams and the entire defensive line for creative stunts, including a linebacker to fake a blitz, ultimately becoming a quarterback spy.  These stunts would often include one defender looping to the 5 tech, sometimes even a wide nine tech.
New York was able to collapse the edges and along with that quarterback spy, prevented Russell Wilson from rolling out laterally and forced him to make a decision to climb the pocket. This is one of the many reasons the Seahawks had a lot of struggles last week, as their offense became one-dimensional.
For Arizona to have success, they must be able to pick up these exotic blitzes and schemes. Williams will most certainly draw a double team, which will leave one-on-one matchups across the board.  Communication and not overcommitting to a rusher when helping out with a block will decide the winner of each battle.
This means the offensive line needs to use a trail (hand) technique, where the outside offensive lineman has his inside hand extended towards the interior of the line, while his head and eyes are turned away from the line. If you would like to do this yourself to understand this more, extend your left arm and look towards your right, keeping your right hand close to your chest.
The technique allows for offensive linemen to feel for pressure using their "third eye". When they feel a rusher come towards that hand, they can punch and provide support to the inside gap in the meantime looking for delayed rushers, or even that quarterback spy coming for a blitz.
Secondly, watch how much Maxx Williams is on the field as a blocking tight end. That's been his forte' and has certainly been one of the reasons Kenyan Drake has been able to have big games occasionally this year. If Jabaal Sheard rushes up field as hard as he did last week, Williams should be able to get a great down block and seal the edge in the Cardinals' zone running scheme.
Finally, the Cardinals are overdue for a running back screen, and not one to a wide receiver. This would most likely put Chase Edmonds as the #1 receiver on these plays, although Drake has gradually been getting more passes thrown his way each week. A screen would get the defensive line to bite, and as long as the linemen can get out front, it should result in a big gain and help temper the aggression from the Giants.