Arizona Cardinals now have new star quarterback to deal with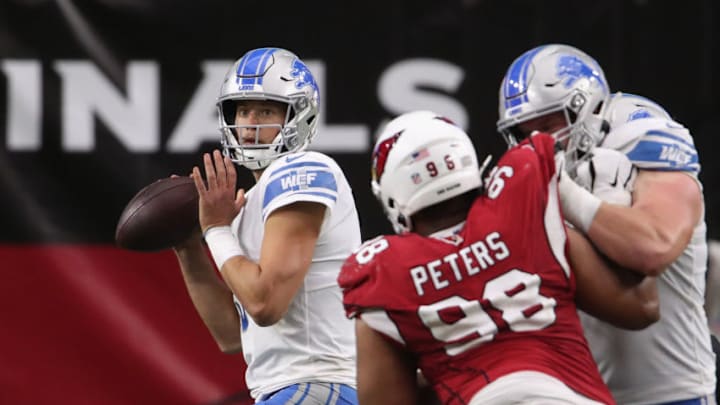 GLENDALE, ARIZONA - SEPTEMBER 27: Quarterback Matthew Stafford #9 of the Detroit Lions drops back to pass in the NFL game against the Arizona Cardinals at State Farm Stadium on September 27, 2020 in Glendale, Arizona. The Lions defeated the Cardinals 26-23. (Photo by Christian Petersen/Getty Images) /
For the past four seasons, the Arizona Cardinals have been completely owned by the Los Angeles Rams. Kliff Kingsbury, and more specifically Cards defensive coordinator Vance Joseph, have had zero answers for Sean McVay and the Rams offense. Thanks to deal that was consummated on Saturday night, Arizona will now have to contend with a new Los Angeles passer who McVay coveted in the worst way.
In a blockbuster trade that was announced on the weekend before Super Bowl LV, the Detroit Lions agreed to send quarterback Matthew Stafford to the Rams. In return, the Lions receive Jared Goff, two future first-round picks and a third rounder in 2021. Incredible compensation to say the least, but could Stafford really be that much better than the 26-year old Goff?
What should scare the Cardinals and their fans the most is that McVay thinks that highly of the 32-year old Stafford. Kingsbury's squad has been unable to defeat Los Angeles with Goff, and unknown signal-caller John Wolford for that matter, leading the scoring attack. Will Joseph's task become even more difficult now that Stafford is at the controls?
Many of the league's observers believe that Stafford is a very good quarterback who's been stuck on a really bad team for the last 12 campaigns. In 165 NFL starts, the 6'3, 220 pounder has completed 62.6% of his passes for 45,109 yards and 282 touchdown tosses. Stafford has also thrown just 144 picks on 6,224 career attempts, for an incredibly low 2.3 interception rate.
Now, the bad part of the swap for McVay and the Rams. Stafford has been voted to just one Pro Bowl (2014) since he entered the league back in 2009, while Goff has already received that honor twice (2017-18) in his five professional seasons. There's also the fact that Stafford has appeared in three playoff games as a pro, and failed to win any of them.
Goff, on the other hand, does have two postseason victories under his belt. The 6'4, 222 pounder also led Los Angeles to a Super Bowl appearance following the 2018 campaign. The Rams came up short in that matchup, however, managing just one measly field goal during a 13-3 loss to the New England Patriots.
In McVay's mind, Los Angeles just got a whole lot better by adding Stafford to their offensive lineup. Based on their record against the Rams 35-year old head coach, Arizona has no reason to believe that his assessment is wrong. If McVay does prove to be correct about Stafford, then winning the NFC West just got a whole lot more challenging for Kingsbury and the Cardinals.