Cardinals might a have a superstar in the making on their defense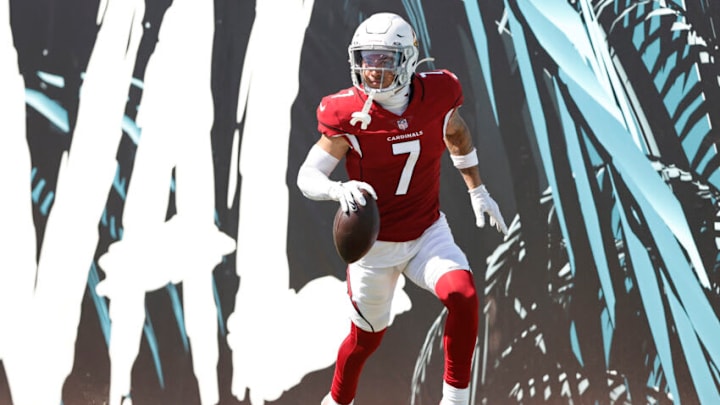 (Photo by Michael Reaves/Getty Images) Byron Murphy /
Three weeks into the 2021 season, Arizona Cardinals cornerback Byron Murphy Jr. is quickly establishing himself as one of the top defensive backs in the NFL.
With less than a minute remaining in the third quarter of their Week 3 matchup against the Jacksonville Jaguars, the Arizona Cardinals found themselves trailing by two points. That deficit didn't last very long thanks to Cardinals cornerback Byron Murphy Jr. picking off a pass thrown by Jaguars quarterback Trevor Lawrence and returning it 29 yards for a score.
Murphy's pick-six gave Arizona a five-point lead and they never looked back after their young cornerback's impressive play.
That was actually the second interception of the day for Murphy and those two picks ultimately resulted in the Cardinals corner being named the NFC Defensive Player of the Week for Week 3.
Arizona Cardinals could have the makings of something special with Byron Murphy Jr.
Through three games, Murphy is off to a great start. He's already broken up five passes and come up with two interceptions in addition to allowing a completion rate of just 55.6 percent and a passer rating of just 69.0 when targeted.
Murphy's allowed completion percentage so far this season is currently lower than some of the best cornerbacks in the NFL, including Jalen Ramsey, Marlon Humphrey, and Byron Jones.
Following the sudden retirement of Malcolm Butler earlier this year, Arizona needed guys like Murphy and fellow corner Robert Alford to make sure Butler's loss wouldn't have a huge impact. So far, the remaining cornerbacks on the Cardinals' roster have proven to be up to the task.
Especially Murphy, who seems like he's really starting to find his groove as a corner in this league. The scary part is he is still has a ton of potential since he's just 23-years-old.
Yes, it is still early in the 2021 season. But if Murphy continues to perform like has during Arizona's first three games, being named the NFC Defensive Player of the Week isn't going to be the only honor he receives this year.