Breaking down the Arizona Cardinals new coordinators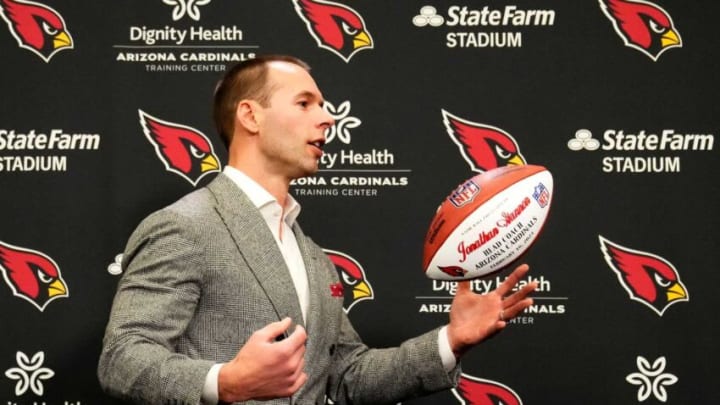 Jonathan Gannon is introduced as the new head coach of the Arizona Cardinals during a news conference at the Cardinals training facility in Tempe on Feb. 16, 2023.Nfl New Arizona Cardinals Head Coach Jonathan Gannon /
The Arizona Cardinals are more stable this week than they were just seven days ago with a new head coach, plus new offensive and defensive coordinators.
The Arizona Cardinals brought on Drew Petzing as their new offensive coordinator while Nick Rallis will lead the defense. Both coaches are familiar with new head coach Jonathan Gannon. Petzing worked with Gannon on the Minnesota Vikings between 2014 and 2017, while Rallis and Gannon worked together with the Philadelphia Eagles.
Ironically enough, Rallis and Petzing are also familiar with one another. One year after Gannon left Minneapolis to become the Indianapolis Colts defensive backs coach, Rallis joined the Vikings staff as their defensive quality control coach. Rallis and Petzing coached together on the staff between 2018 and 2019.
So the first huge sigh of relief is the sense of familiarity that this golden trio shares. They're already familiar with one another's tendencies, and that alone will bring much more stability to the organization as opposed to three coaches just stringing themselves together.
Arizona Cardinals make good moves in hiring Petzing, Rallis
Gannon, who stressed during his introductory press conference that he wanted to build the offense around quarterback Kyler Murray, sees the value in entrusting Petzing to get the job done. During his time in Cleveland as the Browns quarterbacks coach Petzing got the most out of Jacoby Brissett, who was an effective game manager in the wake of DeShaun Watson's 11-game suspension.
If Petzing could get so much from Brissett, expect him to work wonders with an elite talent like Kyler Murray. The coach showed he can work well with quarterbacks, and Cardinals fans should be excited about this hire.
At 29, Rallis is one of the league's youngest high-profile coaches. And he will oversee a defense brimming with young talent, but one that also gave up 26.4 points per game, the second-highest in the league. The Cardinals also struggled in third-down defense, allowing the fifth-highest number of third-down conversions in the league, and their red-zone defense allowed the fourth-highest number of points.
While it will be a challenge for the young Rallis, he also knows what kind of system Gannon is looking to bring in. So to have a coach who can oversee a transition that he's familiar with could pay some early dividends. Despite his overall youth, Rallis was a good hire.
Source: Report: Cardinals hiring Browns QBs coach Drew Petzing as OC by Tyler Drake 
Source: Source: Cardinals hire Eagles' Nick Rallis, 29, as new DC by Josh Weinfuss
Raising Zona /
Want your voice heard? Join the Raising Zona team!