What I'll be watching for as the Arizona Cardinals draft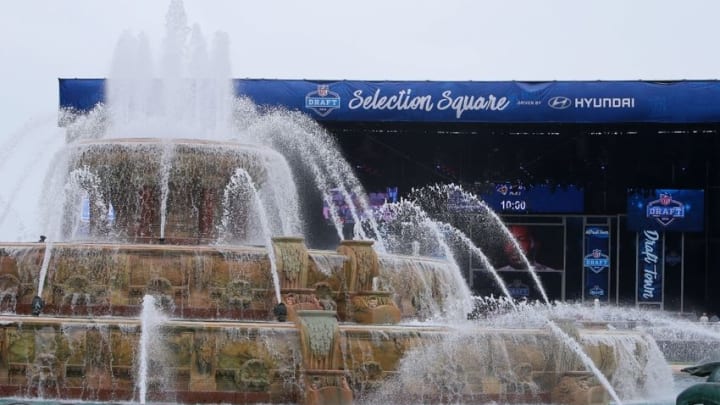 Apr 28, 2016; Chicago, IL, USA; A general view of Buckingham Fountain and the Selection Square stage in Draft Town in Grant Park before the 2016 NFL Draft. Mandatory Credit: Jerry Lai-USA TODAY Sports /
If the Cardinals do draft, what position will come off first
My mind is on two positions actually, center if one is available, if not, then cornerback seems to be the biggest position of need. A month ago I would have said this was a pass rushers, and this could still be the case in later rounds, but the trade for Chandler Jones has made it a secondary need at this point. The team needs to find a longer term solution here, but Jones could be paid by the team depending on a variety of situations going forward.
Center is the position that needs the most help, A.Q. Shipley is a viable option, but a backup at best, and Lyle Sendlein has not been resigned after being signed very late in the offseason last year. The left side of the line is near perfect, but the ride side and the center will be new this season so all the help Steve Keim can cull up the better. A high draft pick on the offensive line will make it a centerpiece of the NFC West.
Cornerback seems like an odd position to go after, but there hasn't been a talented player here next to Patrick Peterson since Antonio Cromartie put in half a decent season before phoning in the second half of 2014. With two great DBs in the backfield and a suffocating pass rush, the Cardinals could jump even higher to the best defense in the league. But only time will tell.
Jan 16, 2016; Glendale, AZ, USA; Arizona Cardinals wide receiver Michael Floyd (15) celebrates with wide receiver Jaron Brown (13) after catching a pass for a touchdown against the Green Bay Packers during the fourth quarter in a NFC Divisional round playoff game at University of Phoenix Stadium. Mandatory Credit: Mark J. Rebilas-USA TODAY Sports /
Will Michael Floyd be a Cardinal at night's end?
The team already traded one high profile former-first-rounder in Jonathan Cooper in the offseason to the Patriots (another reason why, if the team trades out of the first round, they'll be looking to get a second round pick as part of the package), so trading another doesn't seem likely. This will be the second year in a row that this rumor has come up, but it has a little bit of teeth this year over others.
Floyd is entering the last year of his rookie deal and will look to get paid based on his performance, something the Cardinals will have a hard time doing right now, although we do not know what the salary cap will be next year. Michael Floyd is a big, physical receiver, and a great one at times. Smoking the Seahawks for a multi-touchdown game, but disappearing a week later to the tune of a handful of catches with little to no performance. Floyd can give you half a season of dynamic work, but is that enough to keep him?
If you know you can't afford him, and you can get something for him now, maybe two draft picks, and replace him with another prospect, do you pull the trigger on a trade? That's where Steve Keim shines, and he could pull a play of of Bill Belichick's book and do the same thing that allowed the Cardinals to land Chandler Jones.
When the evening is all said and done, I expect the Cardinals to have a brand new cornerback, or linebacker on the roster who will be able to make an immediate impact, the team won't trade Floyd and won't trade out of the first round, but look for them to possibly trade into the second round tomorrow. A center won't be there, the team won't draft a quarterback this season at all, and we'll start off the season on high note with our defense bulking up, and a returning offense looking for some revenge.