Arizona Cardinals exhibit class by extending injured center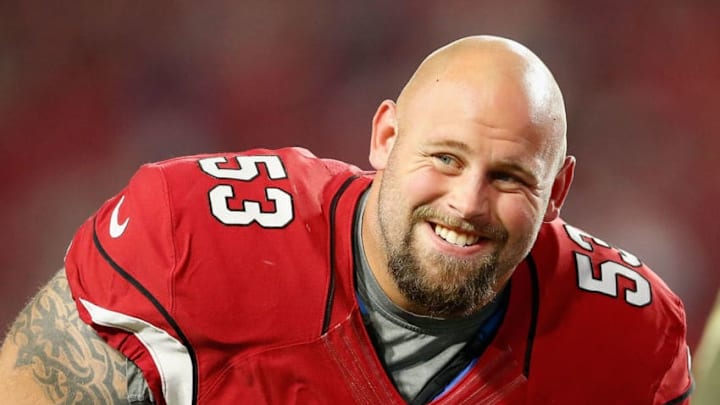 GLENDALE, AZ - NOVEMBER 22: Center A.Q. Shipley #53 of the Arizona Cardinals before the NFL game against the Cincinnati Bengals at the University of Phoenix Stadium on November 22, 2015 in Glendale, Arizona. The Cardinals defeated the Bengals 34-31. (Photo by Christian Petersen/Getty Images) /
The Arizona Cardinals' willingness to give the injured A.Q. Shipley a contract extension is a wonderful demonstration of class
Being an employee of the Arizona Cardinals can be a wonderful thing. Demonstrate to ownership and the management team of the organization that you are loyal and hard-working, and good things can happen. The team's starting center found that out firsthand this past Friday.
Despite the fact that he will miss the upcoming season, the Cardinals have rewarded A,Q. Shipley with a one-year contract extension. The anchor of the squad's offensive line tore his ACL back on August 4th, during Arizona's annual "Red and White" practice. There were some who thought at the time that Shipley may have played his last down for "Big Red", but the front office obviously wants him back.
It's an incredibly classy gesture by the Cards. It's not often that an NFL player who's rehabbing a major injury gets another year tacked onto his current deal. Shipley took to Twitter, in fact, to show his immense appreciation to his employer.
"I can't say enough about the organization", stated the veteran. "I just want to say thank you to the Bidwill family, Steve Keim, Steve Wilks and the entire organization for giving me an opportunity to continue playing the game I love."
Shipley is apparently being paid for what he has done over the past couple of seasons. Up until a few weeks ago, the 32-year old had been an ironman, of sorts. Shipley started all 32 contests during the 2016 and 2017 campaigns, and was the only starting Cardinals lineman who remained healthy for all of last year.
Shipley isn't the first Cards player to receive such a show of faith. Jaron Brown tore his ACL back in November of '16, and was extended just weeks after the mishap. The wide receiver had a year added onto his contract which kept him in the desert until the conclusion of the 2017 schedule.
For the time being, Shipley is being asked to tutor his replacement. Rookie Mason Cole has some big shoes to fill, and will look to his mentor for advice. After the generosity that was shown to him, it's the least that Shipley can do.