Arizona Cardinals could take flier on brittle veteran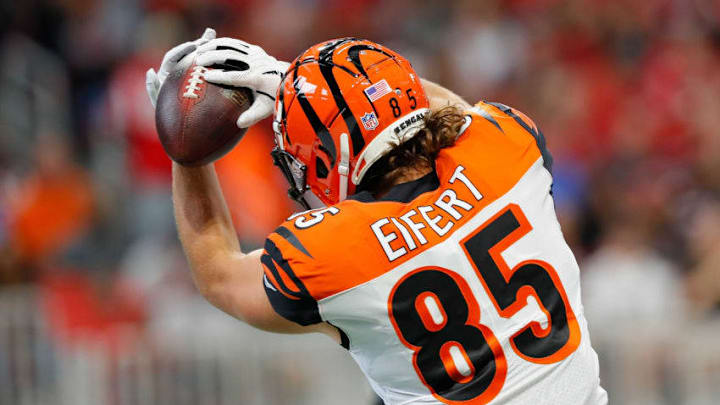 ATLANTA, GA - SEPTEMBER 30: Tyler Eifert #85 of the Cincinnati Bengals catches a pass for a touchdown during the first quarter against the Atlanta Falcons at Mercedes-Benz Stadium on September 30, 2018 in Atlanta, Georgia. (Photo by Kevin C. Cox/Getty Images) /
The extremely talented but injury-prone Tyler Eifert could provide a lift at the tight end position of the Arizona Cardinals
For years now, the Arizona Cardinals have gotten very little production out of the tight end spot. A rich contract that was handed out to current starter Jermaine Gresham in 2017 has not paid dividends. The nine-year veteran has not come close to living up to that deal.
There is, however, a player scheduled to become a free agent who has the potential to give the Cards what they've been lacking at the position. A former first-round draft pick who was good enough to represent the AFC in the 2015 Pro Bowl. Unfortunately, there's an enormous red flag associated with the individual in question.
Tyler Eifert, a tight end with the Cincinnati Bengals, is about as durable as a piece of china. The 28-year old has missed 41 out of a possible 80 games since he entered the NFL in 2013. Eifert has suffered a myriad of injuries that have frustrated both the Bengals and their fans for the last five years.
Usually, someone who has missed so much time gets cast aside by the league. But Cincinnati, up until this point at least, has refused to give up on the talented Eifert. The University of Notre Dame product's 2015 performance may be the reason why.
In 13 appearances that year (a stinger cost him three matchups), Eifert hauled in 52 passes for 615 yards and an impressive 13 touchdowns. The outstanding numbers earned him the Pro Bowl invitation. Ironically, Eifert left even that game hobbled after injuring an ankle.
Eifert's injury woes date all of the way back to his rookie campaign in '13, when a stinger cost him the season finale. The next season, a dislocated elbow cost the pass-catcher 15 weeks. The ankle injury that Eifert endured during the '15 Pro Bowl, in addition to a back problem, cost him a total of eight contests in 2016.
If all of that isn't enough, Eifert suited up just twice in 2017 after undergoing surgery on his back. There was also a separate surgery to remove a cyst from his knee. Last year, Eifert broke his ankle in week four and missed the remainder of 2018.
Would it be ludicrous for Arizona to even consider signing such a brittle performer? That would depend on what type of contract he'd be offered. A non-guaranteed, incentive-laden deal would be the only route to go if the organization did decide that Eifert was worth their time.
Eifert's upside is tremendous. In 39 professional appearances, the Indiana native has racked up 142 receptions, 1,716 receiving yards and 21 scores. He obviously produces when healthy.
Eifert could turn out to be a high-reward, low-risk pickup for the Cardinals. The 6'6, 255 pounder and his agent have very little leverage at the bargaining table. If he can remain on the field, Eifert could very well turn out to be one of the pleasant surprises of the 2019 free agent class.