Grading every Arizona Cardinals 2019 NFL Draft pick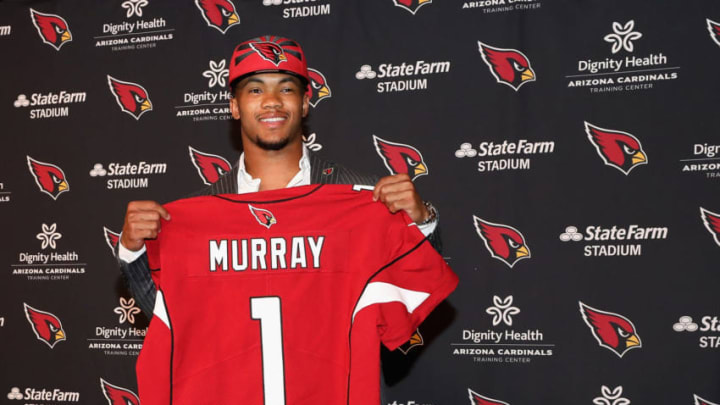 (Photo by Christian Petersen/Getty Images) Kyler Murray /
The Arizona Cardinals draft class graded well across the board.
The Arizona Cardinals had one of the more bold drafts in recent memory. Not only did they trade last year's No. 10 overall pick Josh Rosen for a second, they seemingly stole the show drafting playmaker after playmaker. In turn, newly hired head coach Kliff Kingsbury got all the pieces to run his offense to his liking.
We saw the Cardinals take 11 players in this year's draft. Seven of those players were on the offensive side of the ball, and three were wide receivers. That offensive heavy draft fixed a lot of holes on the roster and should mean for an exciting future in the desert. With that being said, let's delve into Steve Keim's 2019 draft class; which may be his best yet.
No. 1 overall; Kyler Murray – QB, Oklahoma
This was a bit of a shock to me seeing they drafted Rosen last year, but Murray's tape says it all; he's a fantastic escape artist and has the talented arm to sling the ball down the field with some zip to it. Murray may be a bit of a risk considering his size, but he was productive at Oklahoma and has the game to take over the NFL.
The Cardinals hope to follow the Cleveland Browns suit as they drafted an undersized, former Heisman winner from Oklahoma. Murray may have the lower floor, but he has the potential to reach new heights, he's also very familiar with Kingsbury offensive concepts.
Grade: A+. Kingsbury has his guy to run his offense.
No. 33 overall; Byron Murphy – CB, Washington
Anytime you can grab a first round talent on the second day of the draft you take him. Murphy is an excellent compliment to Patrick Peterson, if he stays, as a stingy, zone coverage cornerback. In 2018 he racked up four interceptions along with 44 tackles. He's a ballhawk, but he's also not afraid to lay the lumber when needed.
Pro Football Focus thought highly of Murphy as they gave him 92.0 grade and ranked him as their sixth-best player. The only real concern I have with Murphy is his long speed, as he ran a 4.55-second 40-yard-dash time at the combine. However, his aggressiveness along with his refined skills should be a plus for the Cardinals.
Grade: A. The Cardinals get a day-one starter that can play inside or out and insurance in case Peterson is gone.
No. 62 overall; Andy Isabella – WR, Massachusetts
The result of trading Josh Rosen to the Dolphins was that of one of my prospects in this draft. Isabella is a speed merchant, deep threat, and slot receiver packaged in a 5-foot-9 frame. His game should pair very well with both Murray and Kingsbury. Isabella also is a menace with the ball in his hands.
Isabella ran the fasted 40-yard-dash for a receiver at the combine with a 4.31-second result. He was ultra-productive at UMass and played his best games against the best teams. Don't be surprised if he's a favorite target day-one.
Grade: A+. Andy Isabella is a dream fit in Kliff Kingsbury's offense.
No. 65 overall; Zach Allen – DL, Boston College
When Bosa, Williams, and Oliver are off the board, you wait until the third round and get a highly touted prospect in Zach Allen. Well, maybe that wasn't the plan, but the Cardinals still managed to do it. At Boston College, the hard-nosed Allen racked up 18.0 sacks and 133 solo tackles.
Zach Allen is a versatile player that can play both inside or on the edge at 6-foot-4 and 281-pounds. He's not an explosive athlete, but he's an excellent run-defender and plays with a lot of effort. He should help fix a rush defense that allowed 154.9 rushing yards per game last year.
Grade: A-, he's a bit of a tweener, but most thought he'd go much earlier than this. He's a good fit in the 3-4 defense as an end.
No. 103 overall; Hakeem Butler – WR, Iowa State
Hakeem dropped farther than anyone thought he would and if you're a Cardinals fan you should be jumping for joy. As my colleague, Avery Duncan said;
"I love the Hakeem Butler pick for the Arizona Cardinals. They got a true X-receiver to pair with Kyler and Kingsbury."
Standing at 6-foot-5 and running a 4.45 second 40-yard-dash, it's hard to argue against that logic. He's tall, but he's a magician mid-air and is a true field stretcher. Most thought he'd be gone within the top-50, instead, the Cardinals get maybe the best value in the draft (if he fixes his drop issues) in the fourth.
Grade: A+, the Cardinals get their true heir apparent to Larry Fitzgerald, this is an impressive value.
No. 139 overall; Deionte Thompson – S, Alabama
With a Pro-Bowl ceiling, Deionte Thompson projects as another steal for the Cardinals in the middle rounds. Despite having no interceptions at Alabama, Thompson is an excellent free safety as he possesses the ball tracking to lead to a lot of pass breakups and frustrated receivers. With a total of 74 solo tackles, he is no slouch in the "boom" department, either, as he will pop you if you're not careful.
Thompson will turn some heads next year as a potential rotational player on the defense. He needs to bulk up (6-foot-1, 195-pounds) and had a knee injury, but he's still a potential starter that once was projected to go in the first.
Grade: B+. Thompson is a high upside player but needs to develop some more until he can start full-time. The offensive line may have been a better option to contend next year.
No. 174 overall; KeeSean Johnson – WR, Fresno State
Johnson is a high floor prospect that will be used as a future investment behind Fitzgerald. Under He had a prolific career at Fresno State that includes 275 catches, 3,468 yards, and 24 touchdowns playing mostly on the outside. Johnson isn't a flashy athlete, but he's a well-developed product that will make his bread and butter as a likely second option on the outside.
Johnson is a consistent player with reliable hands and smooth route-running. He can be a volume catcher when need be, but will ultimately see bench snaps until his game develops to make up for a lack of speed. He's also a plus blocker.
Grade: A-. Johnson should prove to be a consistent option in the NFL that can do a bit of everything. He'd be an ideal second option if Butler pans out.
No. 179 overall; Lamont Gaillard – IOL, Georgia
Gaillard could win the center battle with A.Q. Shipley if Mason Cole goes to guard. He was the first offensive lineman picked by the Cardinals and looks to be a good one. He's a powerful, mauling run-blocker without the ideal size (6-foot-3, 305-pounds). However, he's a nasty offensive lineman that continues to progress.
Per PFF, Gaillard allowed just 5.0 sacks in his 1,029 college pass-blocking snaps. Gaillard is athletic, plays hard, was a team captain, and is improving his technique. If he can get better at anchoring, he could be a high-quality starter.
Grade: B+. Gaillard is a nice pickup that should surprise a lot of people in training camp. He brings the nasty to the unit and then some.
No. 248 overall; Joshua Mills – OT, Morgan State
Mills started 31 games at tackle at Morgan State and won All-Conference MEAC honors at left tackle last year after missing all of 2017 due to academic ineligibility. He had a solid combine, that included an unheard of 36-inch vertical. Standing at 6-foot-5 and weighing in a 314-pounds with 35-5/8-inch arms, Mills has the ideal size to play either tackle positions.
Playing against weaker competition certainly hurts his stock. He'll need to continue to work on his techniques, but, from what I've seen, he's an instinctual player and an excellent building block.
Grade: B-. He's Steve Keim's small school guy, but he has a lot of potential. The Cardinals got a really nice long-term project here.
No. 249 overall; Michael Dogbe – DL, Temple
You can never have too much depth on the defensive line. Dogbe is just that. He's undersized 6-foot-3 and 280-pounds, but he showed athleticism at Temple to go along with production. In his senior season, he tallied 7.0 sacks and 37 total tackles. Per PFF, he also had an outstanding 36 run-stops.
Dogbe could stand to gain some weight to add to a weak bull-rush, but he's an interesting product. He has the game to fit well in the Vance Joseph 3-4 defense, and will likely be depth until he can win with sheer power alone.
Grade: B+, another high potential reward if he develops properly, Dogbe can prove to be good depth earlier on in his career.
No. 254 overall; Caleb Wilson – TE, UCLA
This year's Mr. Irrelevent doesn't look or play like a class tight end, but he should have a role as a receiving tight end to create mismatches with linebackers. He ran a blazing fast 40-yard-dash for a tight end (4.56 seconds) and has shown the receiving skills to compliment a game most believe will be focused vertically.
Wilson looks to be a perfect fit in Kingsbury's offense. He's a receiving tight end that can create separation and has a 6-foot-4, 240-pound frame. He should be a chess piece for Kingsbury either used out-wide, at tight end, or in the slot. However, he won't start until he can learn how to run-block.
Grade: B+. Wilson is an intriguing prospect that needs to continue to develop, he could be the ultimate chess piece in Kingsbury's offense if he does round out his frame (top-heavy) and learn how to block consistently.
I'm excited to see what happens in the next few months with these bright young men. We shall see how these kids can handle the dry heat in the desert.
For more grades, advanced statistics and more at Pro Football Focus, subscribe
to PFF's EDGE or ELITE subscriptions at ProFootballFocus.com.