Ranking the Arizona Cardinals 2019 rookies off of their NFL comparisons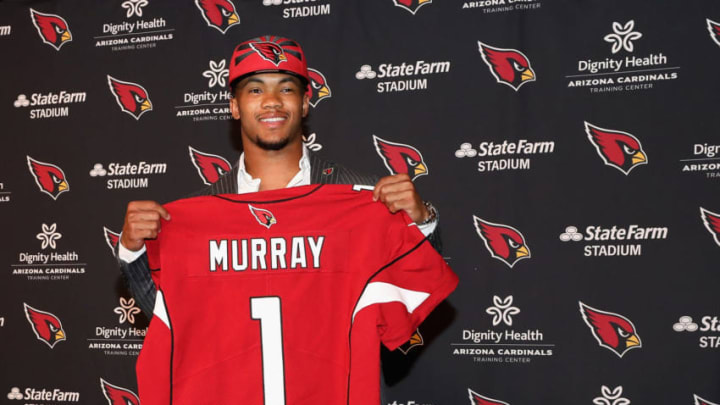 (Photo by Christian Petersen/Getty Images) Kyler Murray /
TEMPE, ARIZONA – APRIL 26: Quarterback Kyler Murray of the Arizona Cardinals poses during a press conference at the Dignity Health Arizona Cardinals Training Center on April 26, 2019 in Tempe, Arizona. Murray was the first pick overall by the Arizona Cardinals in the 2019 NFL Draft. (Photo by Christian Petersen/Getty Images) /
Most of the Arizona Cardinals 2019 NFL Draft class was compared favorably to Pro Bowlers, All-Pros, and Hall of Famers.
No matter your opinion on Kyler Murray, it's hard to say the Arizona Cardinals didn't leave the most recent draft as clear-winners. Instead of drafting for need only, the duo of Kliff Kingsbury and Steve Keim stuck to their big-board and drafted the best player available in nearly every round.
The result of their 11 draft picks is a truly awe-inspiring rookie class. Though the Cardinals didn't target offensive line as much as their fans and perhaps Murray would've liked, they acquired multiple day-one starters and several pro-ready players that are expected to contribute from the get-go.
Out of the Cardinals 11 picks, eight were compared to Pro-Bowl players, while others were even compared to Hall of Famers or potential Hall of Famers. Though comparisons do tend to be lazy and are often inaccurate, they do give a good sense of the draftee's playstyle and upside. With that being said, I compiled each of the draft pick's comparisons and ranked them accordingly.
Each player has five comparisons from either respected national media draft experts, respected third-party draft websites, or trusted bloggers. The priority is within the national media experts. It's worth noting that the hunt for comparisons and the selection wasn't based on the prestige of the players, rather it was the prestige of the draft pundit.
Now, with that being said, let's get into some comparisons for the newest bunch of Arizona Cardinals.