Arizona Cardinals should cut ties with Robert Nkemdiche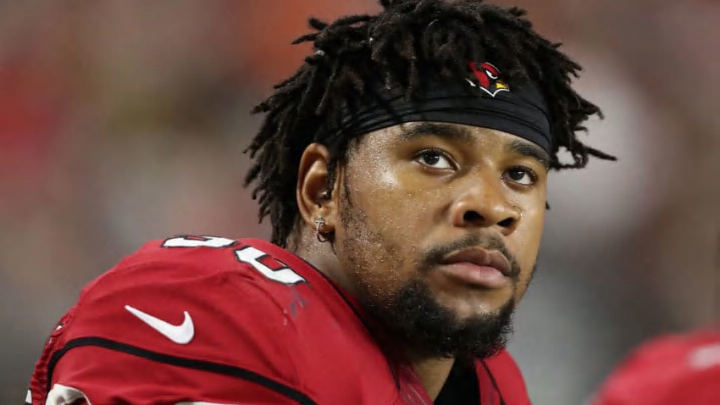 GLENDALE, AZ - SEPTEMBER 01: Defensive tackle Robert Nkemdiche #90 of the Arizona Cardinals sits on the bench during the preseaon NFL game against the Denver Broncos at the University of Phoenix Stadium on September 1, 2016 in Glendale, Arizona. The Cardinals defeated the Broncos 38-17. (Photo by Christian Petersen/Getty Images) /
The Arizona Cardinals need to realize once and for all that defensive tackle Robert Nkemdiche was not worth the investment
Just last month, the Arizona Cardinals first-round draft pick of three years ago found a way to embarrass the organization. Defensive tackle Robert Nkemdiche was cited not once, but twice, for traffic violations. Charges against the player included speeding and driving with a suspended license, and a white powdery substance was found in his car as well.
Don't look now, but Nkemdiche has gotten under the skin of the Cardinals yet again. The 24-year old reported to training camp looking a bit on the flabby side, a disappointing follow-up to the transgressions that occurred in June. When questioned about the situation, head coach Kliff Kingsbury looked annoyed as he admitted that Nkemdiche was "not in shape".
There's growing speculation that Arizona's front office may be getting tired of Nkemdiche's antics. It's quite possible that the defender may not even be worth the aggravation that he is causing. In fact, to say that Nkemdiche's career statistics are unimpressive would be putting it lightly.
The 29th-overall selection of the 2016 draft had a disastrous rookie season. Nkemdiche assisted on one measly tackle during the five games he suited up for. In 2017, he racked up just 11 tackles, but did manage to return a fumble 21 yards for a touchdown against the New York Giants.
Nkemdiche turned in his best professional performance in 2018. The former University of Mississippi star tallied 32 tackles, 4.5 sacks and seven quarterback hits in 10 contests (six starts). While those numbers are somewhat respectable, you can be sure that general manager Steve Keim and the Cards were expecting much more from the talented Nkemdiche.
Reporting to camp overweight, coupled with the incidents with the police, shows that Nkemdiche is a bit out of control. Figuring out which college prospects will find success in the pros is far from an exact science. Perhaps the Cardinals should admit once and for all that investing in a character like Nkemdiche was a mistake.