Arizona Cardinals cannot afford another letdown in week 17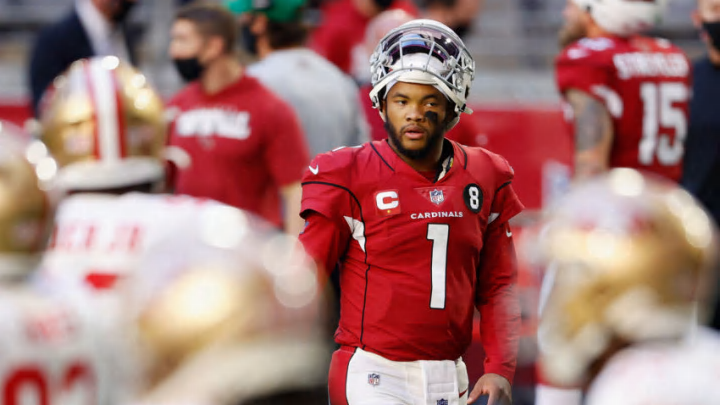 GLENDALE, ARIZONA - DECEMBER 26: Quarterback Kyler Murray #1 of the Arizona Cardinals on the field during the NFL game against the San Francisco 49ers at State Farm Stadium on December 26, 2020 in Glendale, Arizona. The 49ers defeated the Cardinals 20-12. (Photo by Christian Petersen/Getty Images) /
The Arizona Cardinals thought they caught a break in week 16 against the San Francisco 49ers.
Until third-string quarterback C.J. Beathard and running back and Jeff Wilson had other ideas and Kyler Murray and company laid their biggest egg of the season. Poor play calling from Kliff Kingsbury, whose analytics approach has delivered mixed results along with stagnant execution on offense stuffed the Arizona Cardinals.
While the defense allowed just 20 points, they let Wilson cook, and we're not talking about NFL MVP Candidate Russell Wilson. Instead, it was some kid from North Texas named Jeff Wilson who tore up the Cardinals defense for 183 yards on 22 carries.
Come week 17, the Cardinals somehow remain in complete control of their destiny. Win, and they're in the playoffs for the first time since 2015. Prior to Sunday evening, no one gave the ever so stagnant Cardinals a chance to beat the Rams. Then quarterback Jared Goff's status for the matchup became iffy after a possible broken thumb in a loss to the Seattle Seahawks.
Enter John Wolford, backup quarterback whose last stop prior to signing with the Rams was a stint in the short-lived AAF. And the Cardinals again find themselves in a precarious situation. They have proven time and again in 2020 that they love to play down to their competition and what better way to play down to competition than lining up opposite a practice squad-caliber camp arm quarterback?
If Goff can't go, and it's looking as if he won't, the Cardinals are out of excuses. Okay, so in the loss to New England Kyler Murray wasn't 100 percent. Perhaps they were shaking off rust when they fell to Detroit and Carolina, two of the league's worst teams. Maybe they just had a bad day against San Francisco. As you're probably thinking as you read this, the above are among the pettiest excuses for a team who at least on paper, looked like they were turning the corner.
The excuses are over. Even with a strong running game that the Rams own, chances are John Wolford won't look like a Pro Bowl-caliber quarterback. Not that he won't do some damage with the Rams star-studded pass-catching unit, but expect the team to run, run, run, and run some more.
Especially after the Cardinals defense looked dumbfounded by a running back who in August was nothing but a blip on the Niners depth chart. The Cardinals have one more chance to get it right. Win, and everything's fine. Even if they go one-and-done in the playoffs.
Lose, and everyone's seat, including that of Kyler Murray and DeAndre Hopkins, just got hotter. As for Kingsbury and defensive coordinator Vance Joseph, this is the most important matchup of their tenure in Arizona.