Potential Arizona Cardinals backup quarterbacks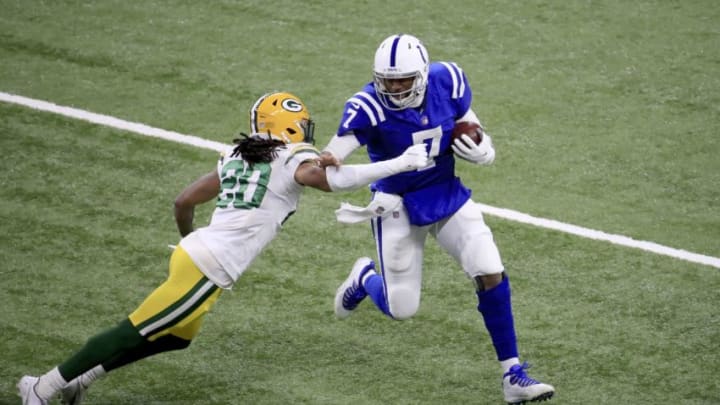 INDIANAPOLIS, INDIANA - NOVEMBER 22: Jacoby Brissett #7 of the Indianapolis Colts runs with the ball against the Green Bay Packers during the third quarter in the game at Lucas Oil Stadium on November 22, 2020 in Indianapolis, Indiana. (Photo by Andy Lyons/Getty Images) /
INDIANAPOLIS, INDIANA – NOVEMBER 22: Jacoby Brissett #7 of the Indianapolis Colts runs with the ball against the Green Bay Packers during the third quarter in the game at Lucas Oil Stadium on November 22, 2020 in Indianapolis, Indiana. (Photo by Andy Lyons/Getty Images) /
One of the Arizona Cardinals backup quarterbacks could be Jacoby Brisset*****. After spending a year in New England, he wound up in Indianapolis and has had some good seasons filling for Andrew Luck due to Luck's injuries. He currently is on a two year, $30 million dollar extension, but the bonuses outweigh his base salary.
So there is some sticker shock here with Jacoby Brisset. Yes, that is a lot of money to pay a backup quarterback. Don't let that  number affect you too much. We've seen Steve Keim be pretty good at working the cap space. The Colts were able to use Jacoby Brisset in certain situations and he has contributed to the Colts getting in the playoffs. If paying a backup quarterback keeps most of the playbook open and can be involved creatively and help get wins, then there's no way you can put a price tag on that.
Indianapolis mainly used him to convert short yardage situations, including getting 3 rushing touchdowns in games when it mattered most. I am no GM, but he is someone I can see the Cardinals offering a contract that gives him incentives in a back-loaded contract that is semi-team friendly to get him to sign with the red birds.