Cardinals looking forward to a quiet SoFi Stadium vs. Rams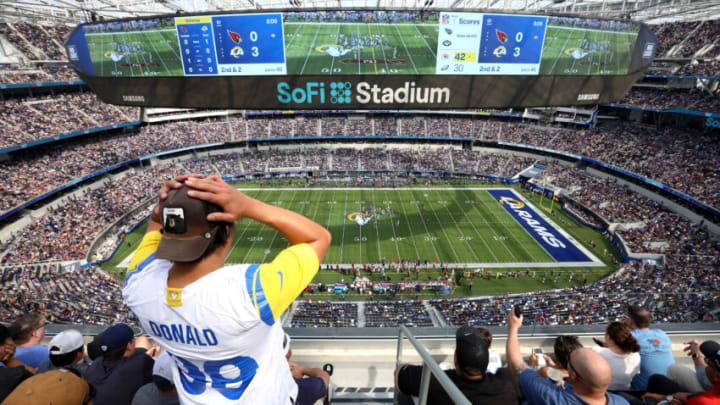 (Photo by Katelyn Mulcahy/Getty Images) /
It appears the Arizona Cardinals could have a significant advantage on Monday night in their road playoff game against the Los Angeles Rams.
When teams host playoff games, one would assume that their fans would be wired and loud when it matters. That doesn't seem to be the case with the Los Angeles Rams, however, as Kelly Stafford, the wife of Rams quarterback Matthew Stafford, recently made a plea to Los Angeles fans to show up and make noise on Monday night against the Arizona Cardinals.
Mrs. Stafford went on to detail how, last week, the fans of the San Francisco 49ers forced the Rams into a silent count in their home building and then let things quiet down for 49ers quarterback Jimmy Garoppolo and the rest of the offense. Everyone knew the stakes, and despite Week 18 being the final week of the regular season, it was basically a playoff game.
This is what the Cardinals have to look forward to on Monday. Fans in Los Angeles had caused problems for the Chargers in years past when they were in their "Tinker Toy" stadium while SoFi Stadium was being built. Now, to their credit, the Rams did rank eighth in attendance in 2021. But will there be a lot of Los Angeles fans at the game on Monday night?
Arizona Cardinals may have the biggest advantage on Monday vs. Los Angeles Rams
For years, all the citizens of Los Angeles had to root for were the Lakers, USC, and the rest of the non-football professional teams. The Lakers were successful, but they are now are having a rough time after winning the NBA's "bubble title" in 2020.
There's also a big age gap in fans that weren't even alive for the last time the Rams were in Los Angeles.
Arizona can even further induce the silence of the Rams with a great game plan from head coach Kliff Kingsbury, who certainly needs a playoff victory to save his reputation in his short career. So is there a chance that Los Angeles fans actually care and get loud on Monday night? Of course, there definitely is.
But when your fan base needs the starting quarterback's wife to tell you to show up and do your part, that's just bad. It's still not as bad as the "Ram Rules" video though, which had the sole purpose to create crowd noise. Ironic, right?