What we learned from the Arizona Cardinals Red-White practice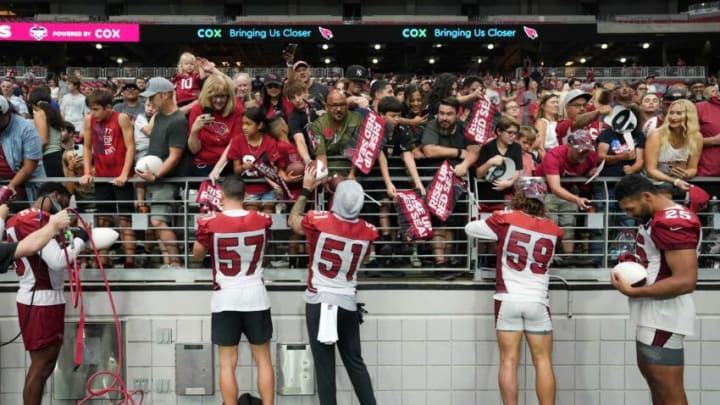 Cardinals Fan 36 /
The annual Arizona Cardinals Red and White scrimmage has brought us the following takeaways.
The biggest dress rehearsal for the Arizona Cardinals 2022 preseason so far went down today. In just six more days, the Cardinals will fly up to Cincinnatti to take on the Bengals in their first preseason game.
Here's what we learned:
Kyler Murray returns to Arizona Cardinals training camp
With that being said, many Arizona Cardinals fans were anticipating the return of Kyler Murray after his bout with COVID-19.  Pictures of him on the field emerged on Twitter, and when it came time to start the scrimmage, Kliff Kingsbury told Murray and Marquise Brown to sit this one out.
Arizona Cardinals lose another player to COVID-19 protocol
Veteran defensive lineman Kingsley Keke was placed on the COVID list today, Keke played a few seasons in Green Bay and was briefly a part of the Houston Texans before winding up in Arizona.
The injury bug won't leave the Arizona Cardinals alone
First, it was four Arizona Cardinals players that were banged up, with the most significant news being Antoine Wesley's groin injury that may require surgery. But now two starters are on the list: Markus Golden and Rodney Hudson.

Hopefully, these are just minor injuries, and rest can fix them. But the amount of players going on the injury list is never a good sign. Let's hope this bug goes away once the regular season starts.
Deone Bucannon 2.0 has arrived for the Arizona Cardinals
Deone Bucannon was one of the worst draft picks of the last decade. A player who was big as a safety but tiny to play middle linebacker, the Cardinals tried making that work and it was an utter failure in the 2016 and 2017 seasons.
Now that they have Isaiah Simmons, at least he physically fits the role that much better. But what does this really mean for the Cardinals?
I think this says more about how much trust they're putting into Simmons to play that box-linebacker role but also have a touch of Tampa-2. If you ever watched Brian Urlacher play, this is the kind of role I mean.
But does Simmons dropping back into coverage (depending on the coverage scheme itself) make the Cardinals a Cover-3 team? Would this make Jalen Thompson and Budda Baker play the edges of the field?
Here's to Simmons and the success he hopefully has; there is a lot of bad memories piled up from Bucannon that need to be forgotten.
There was also another Tweet from Murphy that basically said Nick Vigil would be playing in the starting rotation a lot more than expected. That could be trouble for Zaven Collins.
Greg Dortch's stock is shooting up to the moon
Cardinals wide receiver Greg Dortch continued his hot streak making some big plays. Can he do the unthinkable and make the roster?