Arizona Cardinals will face off against Kwamie Lassiter's son on Friday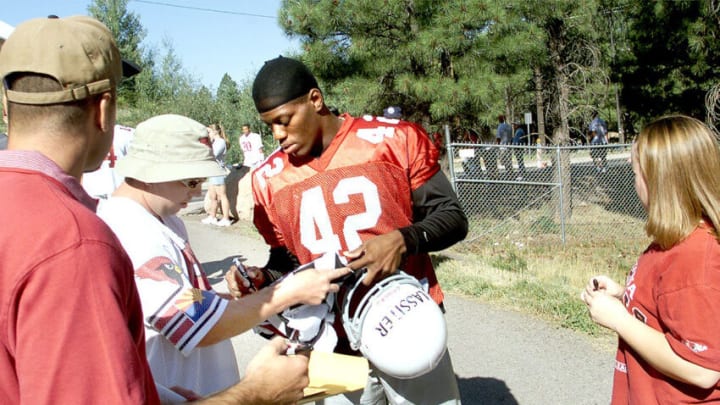 Mandatory Credit: Mike Rynearson/The Republic via USA TODAY NETWORK /
The Arizona Cardinals had a great secondary in 1998, and Kwame Lassiter was a part of it.
As Week 1 of the preseason is finally here for the Arizona Cardinals, Cards fans who've been around to remember the 1990s Cardinals will see a familiar face on Friday night. Kwamie Lassiter II will be suiting up against his late father's old team.
Kwamie Sr. was drafted by the Cardinals in 1995 and went on to spend eight years with the Phoenix/Arizona Cardinals. His most notable moment was the unforgettable Week 16 game against the San Diego Chargers.
All the Cardinals had to do was win, and they were in the playoffs for the first time since 1982 (1975 if you don't count '82 as it was a strike-shortened season). Lassiter had four huge interceptions, an NFL record, that ultimately led to Chris Jacke's game-winning field goal.
It was also an incredible moment called by the great (and always better than Pat Summerall) Don Criqui. That led to the Cardinals' upsetting the Cowboys in the wildcard round before losing to the Vikings the next week.
1998, Kwamie's second-best year, as he grabbed nine interceptions in 2001. Unfortunately, he died after suffering a heart attack after he worked out one day in 2019.
Kwamie Lassiter II looks to carry on his father's legendary Arizona Cardinals career in a different city.
Lassiter II went undrafted as a wide receiver out of Kansas, but he has been one of the highlights for the Bengals in training camp. His route to making the roster seems to lie through being the team's punt returner.
When asked about how the schedule just so happened to align that the Cardinals would be his first NFL game, Lassiter II replied that life has gone "full circle."
Let's hope Lassiter II makes a roster in the NFL. Cardinals fans should watch for the former Hamilton high school product on punt returns on Friday night.