Arizona Cardinals should keep eyes on Baltimore Ravens rookie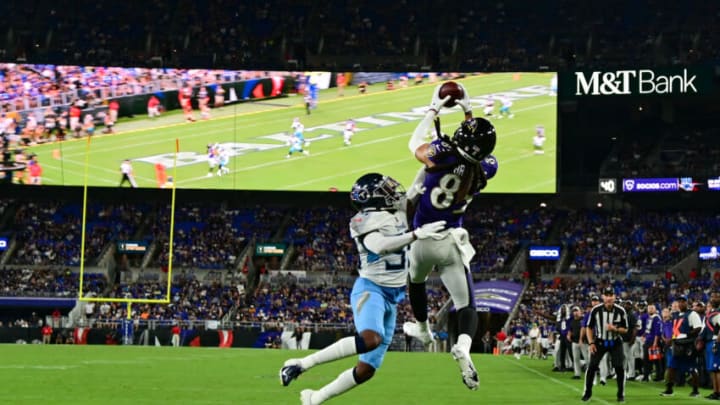 Mandatory Credit: Tommy Gilligan-USA TODAY Sports /
The Arizona Cardinals are in the midst of trying out a few wide receivers.
The top of the Cardinals' wide receiver depth chart is set, but that doesn't mean that they can't keep an eye on a potential cut from another team. During last night's game between the Baltimore Ravens and Tennessee Titans, one player stood out from the rest.
Shemar Bridges had a great first game in the NFL, notching 62 yards and a touchdown in his NFL debut. The Fort Valley State product (that's a Division II school in Fort Valley, Georgia) looked liked he belonged on an NFL roster.
Yes, it's a preseason game, and these should always be taken with a grain of salt. But one never knows when one simple preseason game or play can make an NFL career (search Victor Cruz's three-touchdown game and Terrell Davis' hit on kickoff coverage).
The Arizona Cardinals must keep a tab on Shemar Bridges
If Bridges continues to stay hot and produce next week (ironically against the Arizona Cardinals), then there may be no chance of plucking the undrafted 6'4″, 207-pound wide receiver off the Ravens.
If I had to choose between acquiring Bridges and, say, Andy Isabella, I'm taking Bridges in a heartbeat. His frame looks like he could be a tremendous over-the-middle wide receiver that the Cardinals haven't had in quite some time.
Greg Dortch will probably make the roster, and I'm all for that. I just think the Cardinals need a big-body wide receiver that isn't a tight end to really complete the wide receiver room.
Arizona Cardinals fans will get a good look at him after tonight's game against the Cincinnati Bengals. Keep your eyes peeled!