Kyler Murray can be the Arizona Cardinals version of Rasmus Dahlin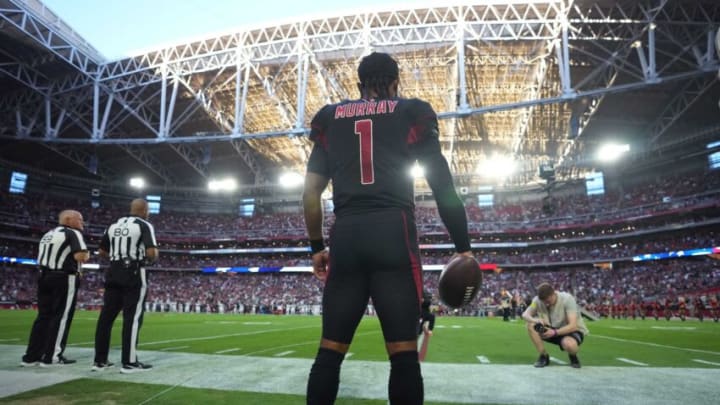 Arizona Cardinals quarterback Kyler Murray (1) prepares to take the field against the New Orleans Saints at State Farm Stadium on Oct. 20, 2022.Nfl Cardinals Saints Photos New Orleans Saints At Arizona Cardinals /
It's no secret Kyler Murray's 2022 campaign was tumultuous, and the Arizona Cardinals quarterback has become a polarizing character. 
As an Arizona sports fan who also follows the Buffalo Sabres (cool name, cool logo, what's not to like?), I can't help but notice some similarities between Arizona Cardinals quarterback Kyler Murray and Sabres defenseman Rasmus Dahlin.
For comparison, the duo are former number one overall picks, they were often chastised for displaying poor leadership ability and body language, and while they showed flashes, they also generally underachieved early. Dahlin, however, has turned into one of the Sabres best players and is now routinely in the hunt for All-Star appearances, and perhaps more in 2022-23.
But flash back to 2020-21, and many had him labeled not necessarily as a bust, but an underachieving first overall pick who had no idea how to lead a struggling team. Many, including myself, have said the same about Murray.
However, after the quarterback tore his ACL in a Monday Night Game against the New England Patriots, Murray has an opportunity. Coming back from the injury by September could mark the first step in proving doubters wrong, and it could mark a turning point in his career.
Arizona Cardinals quarterback has similarities to Sabres Rasmus Dahlin
The turning point in Dahlin's career came with a coaching change, when the Sabres fired Ralph Krueger and inserted Don Granato in his place. Granato's style bode well with Dahlin, and the rest is history for the Norris Trophy contender.
Of course, a potential coaching change is in the works for the Arizona Cardinals, especially as Kliff Kingsbury has lost as many games this season as he won last year. Not a good look for a coach that struggled even in the college ranks.
If the Cardinals fire Kliff, go out and hire a coach whose style meshes with Murray, then you will see a potential Comeback Player of the Year performance in 2023. Ideally, this coach would work well with developing young players. They would also play to Murray's strengths, and to tell him to not worry about making mistakes. None of the hands on hips or that shoulder slumping, in other words.
Murray also has the raw talent and remarkable skill position players around him to make this work. But right now, the quarterback is at his lowest of lows with roughly a nine month recovery period ahead for him. It is, however, an opportunity to not just grow into a vocal leader unafraid to get into it with opponents, but to also put up the types of performances the Cardinals thought they would routinely get out of the number one pick in 2019.
Raising Zona /
Want your voice heard? Join the Raising Zona team!