Arizona Cardinals: 5 reasons to be excited about preseason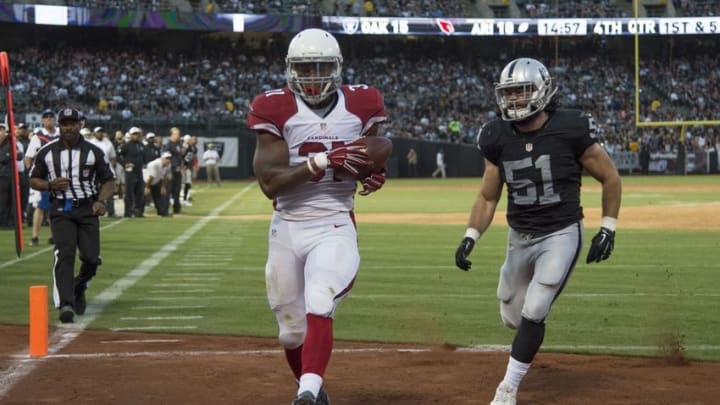 August 30, 2015; Oakland, CA, USA; Arizona Cardinals running back David Johnson (31) catches a touchdown pass against Oakland Raiders inside linebacker Ben Heeney (51) during the fourth quarter in a preseason NFL football game at O.co Coliseum. The Cardinals defeated the Raiders 30-23. Mandatory Credit: Kyle Terada-USA TODAY Sports /
The Arizona Cardinals announced their 2016 preseason schedule on Thursday along with the rest of the NFL
I get it.  Preseason isn't that exciting.  You hardly see any of the regular starters.  The games mean nothing in the standings, although they mean a lot to the 90 guys vying for 53 spots.
However that doesn't mean there aren't reasons to get excited about preseason Arizona Cardinals football.  They have four games on the docket and all four of them have something to offer the fans.
August 30, 2015; Oakland, CA, USA; Oakland Raiders outside linebacker Khalil Mack (52) rushes against Arizona Cardinals tight end Ifeanyi Momah (80) during the third quarter in a preseason NFL football game at O.co Coliseum. The Cardinals defeated the Raiders 30-23. Mandatory Credit: Kyle Terada-USA TODAY Sports /
1. The Oakland Raiders are coming to town
While this doesn't seem like much on the surface, dig deep to find a reason to make it out to University of Phoenix Stadium in week one of the preseason in August.  Yes, guys like Carson Palmer and Larry Fitzgerald likely will only play one, maybe two series.  However it is a chance to see the men in black.
Oakland has always been a good draw for fans in the Valley of the Sun.  Before the Cardinals moved to Arizona, you were either a Raiders fan or a Dallas Cowboys fan.  If you were neither (and I am in that camp, I grew up a San Diego Chargers and Chicago Bears fan), then you were a lot different from many others in many different ways.
Oakland fans will bring their silver and black makeup.  They will bring their outfits.  They likely will bring some fighting with them, although the fan base has gotten better about that in recent years. If for nothing else, you are going to be entertained on and off the field.  It doesn't matter if it is preseason or not.
Next: National television exposure