Arizona Cardinals: Larry Fitzgerald 12 years later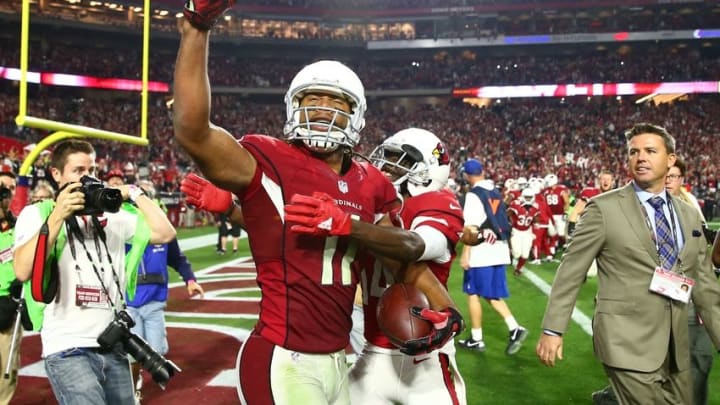 Jan 16, 2016; Glendale, AZ, USA; Arizona Cardinals wide receiver Larry Fitzgerald (11) celebrates with teammates after scoring the winning touchdown against the Green Bay Packers during overtime in a NFC Divisional round playoff game at University of Phoenix Stadium. Mandatory Credit: Mark J. Rebilas-USA TODAY Sports /
The Arizona Cardinals Pro-Bowl receiver was drafted 12 years ago today
What a career it has been for Arizona Cardinals receiver Larry Fitzgerald.  Today marks the 12th anniversary of the Arizona Cardinals selecting Fitz with the third overall pick in the 2004 NFL Draft.  I would say the move paid off.
Sometimes it is difficult to believe that much time has passed.  He has been through so many quarterbacks.  Even one was drafted with him in his 2004 draft class, John Navarre.  That draft class also included linebacker Karlos Dansby and defensive tackle Darnell Dockett.  Not too shabby.
Of course we know all about Fitz and the career he has had in Arizona.  It is hard to believe he has been able to put up the numbers he has given all the quarterbacks he has been through.
Fitz's highlights:
Nine-time Pro-Bowler, including 2015 when he had one of his best seasons in the NFL.
All-time career leader for the Cardinals in receptions, receiving yards, and receiving TD
Pro Bowl MVP
Art Rooney Award
He has surpassed 1,000 yards receiving in seven of his 12 seasons, including 2015 when he had 1,215 yards receiving.  He also has eclipsed 100 receptions three times in his career, including the 109 he had in 2015, which was a career-high for him.
In 2014 there was much speculation he would be traded or released by the Cardinals given his upcoming contract situation.  Many fans called for him to be traded in 2014 while he still had value.  However the Cardinals rewarded him with a contract many thought was an overpayment.  He earned every penny of his new contract in 2015, having a career-year.
He had nine touchdowns in the 2015 regular season.  However it was his 75-yard catch and run and then subsequent five-yard shovel pass catch for a touchdown in the NFC Divisional Playoff game against the Green Bay Packers back in January that truly showed fans keeping Fitz was the right call.  He still has a lot left in the tank.
Still through the 12 years, Fitz has seen a lot.  A lot of quarterbacks.  In addition to Navarre, he's been through Shaun King, Josh McCown, Kurt Warner, Matt Leinart, Tim Rattay, Brian St. Pierre, Derek Anderson, Max Hall, John Skelton, Kevin Kolb, Brian Hoyer, Ryan Lindley, Logan Thomas, Drew Stanton, and of course Carson Palmer.
Fitz found his best connections through Warner and now Palmer.  He's been lucky enough to be on the receiving end of two quarterbacks who made career comebacks after seemingly being at the end of their careers as well.
There's no telling how much longer Fitz can go but you can expect him to remain here as long as Palmer does.  This means you likely will see Fitz for at least two more seasons in Arizona.  After that, all bets are off. Fitz should retire a Cardinal.  That's the way it was meant to be.  For now, continue to enjoy him.  Season number 13 may be the best of them all.