What I'll be watching for as the Arizona Cardinals draft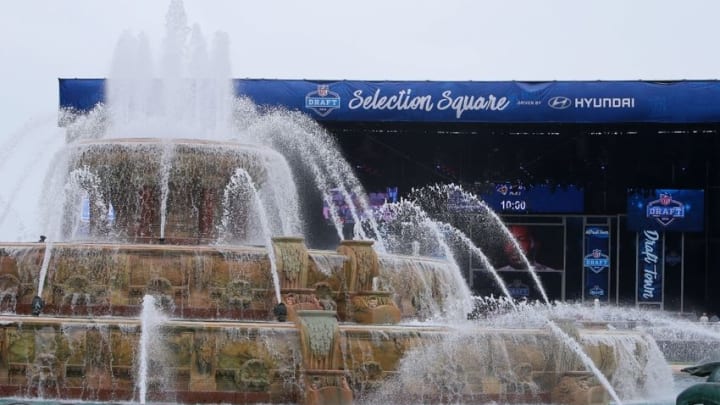 Apr 28, 2016; Chicago, IL, USA; A general view of Buckingham Fountain and the Selection Square stage in Draft Town in Grant Park before the 2016 NFL Draft. Mandatory Credit: Jerry Lai-USA TODAY Sports /
What will the Arizona Cardinals do tonight as 31 of the 32 teams aim to draft a franchise player?
Tonight marks the 2016 NFL Draft, or as the NFL Terms it, "Welcome to the Family". If this was a TGIF sitcom, what character would Bill Belichick play in this off-beat show?
In any event, tonight all, well nearly all, teams will pick players that have some significance to the organization. The first round pick is not only those that (hopefully) have the most talent that is seen on tape, but they also come with the ability to be locked up for five years with that crucial fifth year option you don't get on any of the future round picks.
Rumors about what the Arizona Cardinals will do tonight have been run abound. Who will they pick, which position is one of need, will they trade out, will they trade X player. How does a trade by Y team affect the draft for Z team.
There's a lot of layers, and after months of talking about it, here we are, four short hours from the start, as of 1PM MST, so what will I be watching for from my Arizona Cardinals, as well as the rest of the league.
Will the Arizona Cardinals draft anyone tonight?
Depending on who is on the board this is a 50/50 right now that the Cardinals will pick tonight, otherwise you may not seem them pick until tomorrow. The Cardinals are in a unique position that they can trade out of the first round and not be severely harmed. Actually, the team seems to draft better in later rounds in recent years, picking up guys like David Johnson and John Brown rather than hitting on big name players in the first round.
More from Raising Zona
So will the team pick tonight? If I had to handicap the pick, I will say that the team WILL pick tonight, but as we get further in the draft, I believe this will change and the team will put feelers out to teams that want to get in front of Denver and grab a quarterback if the Broncos have soured on Colin Kaepernick or do not want to pursue Sam Bradford after his recent trade demands.