Arizona Cardinals: The season that could have been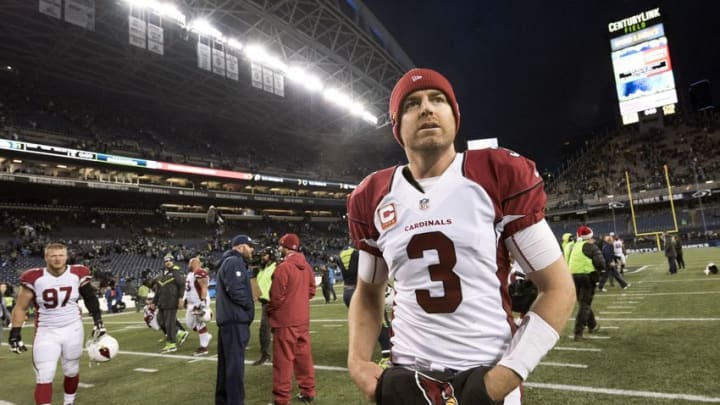 Dec 24, 2016; Seattle, WA, USA; Arizona Cardinals quarterback Carson Palmer (3) walks off the field after a game against the Seattle Seahawks at CenturyLink Field. The Cardinals won 34-31. Mandatory Credit: Troy Wayrynen-USA TODAY Sports /
The Arizona Cardinals 2016 season fell way below expectations of many
As the Arizona Cardinals prepare to face the Los Angeles Rams later today, as painful as it is, we recap what has turned into a tough season for the team and fans.  A victory today would put the Cardinals at 7-8-1, far below the 13-3 they finished at in 2015.
Once again, it is proven it is hard to win in the NFL, despite the parity we have seen over the last couple of seasons.  In a season where the Oakland Raiders got into the postseason and the Tampa Bay Buccaneers still have a long shot going into week 17, you'd expect the Cardinals to already be in hearing that and not knowing how the season progressed.
It wasn't to be.  I supposed we should have seen it coming in preseason.  However preseason is so rarely a factor or premonition of things to come.  It is such a different beast.
While the numbers were better and we saw more of the starters in the regular season, the attitude of being able to just come into a game and turn on a light switch to make things happen was apparent in week one of the preseason.
The Cardinals got blown out by those Raiders back on August 12th in Glendale.  It was a team attitude not the talent.  We know the talent the roster has.
Opening the season at home on Sunday Night Football against the New England Patriots, who were without starting quarterback Tom Brady, it should have been a win.  Despite not playing well throughout, they did have a chance to win.  Then the kicking woes started.
Kicker Chandler Catanzaro struggled this season.  Punter Drew Butler struggled, was cut, re-signed, and cut again and then got into a Twitter war with fans and media on Christmas Eve.
Related Story: Arizona Cardinals vs Los Angeles Rams: Preview, prediction
The long-snapper was a disaster.  It still continues to be an adventure despite a change.  The return teams never got anything going.  Extra-points and field goals were missed.  I mean, remember the 6-6 tie?  Crazy game.
Both sides of the ball had numerous injuries.  Currently 16 players sit on injured reserve.  It's mind-boggling.  First-round draft pick Robert Nkemdiche wasn't NFL-ready on and off the field.
In fact the entire 2016 draft class was pretty much a no-show this season.  Cornerback Harlan Miller  was recently re-signed and center Evan Boehm and guard Cole Toner just recently have seen more playing time, mainly due to necessity.
Receiver John Brown was diagnosed with Sickle Cell Trait.  Safety Tyrann Mathieu never really got anything going suffering a shoulder injury, this after working so hard on his torn ACL rehab.
Quarterback Carson Palmer didn't have the season he had in 2015.  Still, even though he was inconsistent at times earlier in the season, he still has 23 touchdowns against just 13 interceptions.  That happens to be only two more than he had in 2015.
The offense has relied more on running back David Johnson.  He's been one of the lone bright spots on the team. He is breaking records all over the place and set a franchise-record 20 touchdowns going into the season finale.
We say goodbye to 2016 and hello to 2017 today, in more ways than one.  The Cardinals will have a lot of roster decisions to make but expect another run at the Super Bowl come September.