Arizona Cardinals: Drafting remote should not be issue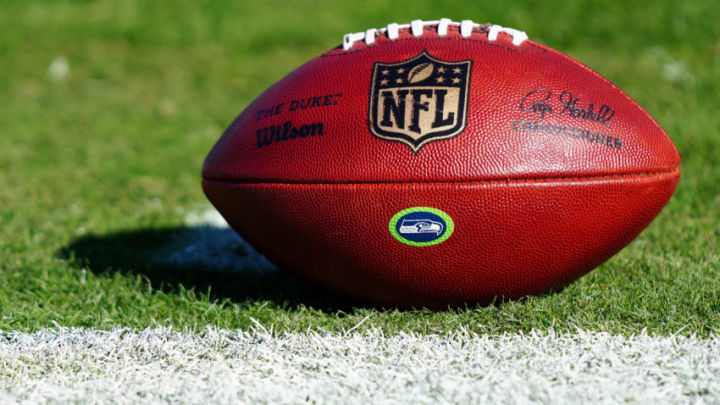 CHARLOTTE, NORTH CAROLINA - DECEMBER 15: A football with the NFL logo and the Seattle Seahawks logo before their game against the Carolina Panthers at Bank of America Stadium on December 15, 2019 in Charlotte, North Carolina. (Photo by Jacob Kupferman/Getty Images) /
The Arizona Cardinals and NFL will conduct the 2020 NFL Draft from home thanks to the current pandemic
There were logistical concerns when it was announced the NFL would be holding its annual draft in two weeks from the homes of those that would normally be in the war room on draft day, including the Arizona Cardinals.  It shouldn't be that difficult.
Naturally there were legitimate concerns by IT people going into other people's homes to set things up.  In this day and age we all want all the technology we can get, get a step up on people.
However, this draft could be an easy done deal without having to put anyone in any kind of danger of catching the virus.  Don't we all have fantasy draft's at home every August?
Build a database remotely, have a draft machine, and guess what, you have yourself a draft.  Ok, we get that when drafting college players with as much gathered information as possible, it may not be that easy but really it can't be as difficult as some try to make it out to be.
You could do it very simply and have a chat with 32 GM's around the league, set up a Webex, Google Hangout, something.  It's like some believe we are trying to re-invent the wheel.
In reality, it has almost come to that unfortunately.  With how television wants to involve itself in the process, it won't and can't come that easily.  Plus the networks, ESPN and NFL Network will want as much extra side bars going on as possible.
What could be a quick one day/night event will get dragged out for three days as usual.  We will still see Mel Keiper's mug, I think.
I guess though we should just be happy something current/live sports-related is coming to our televisions.  It probably will come with some issues but right now, we'll take what we can get.