Dave Meggyesy- the first anthem protestor, advocator for many player issues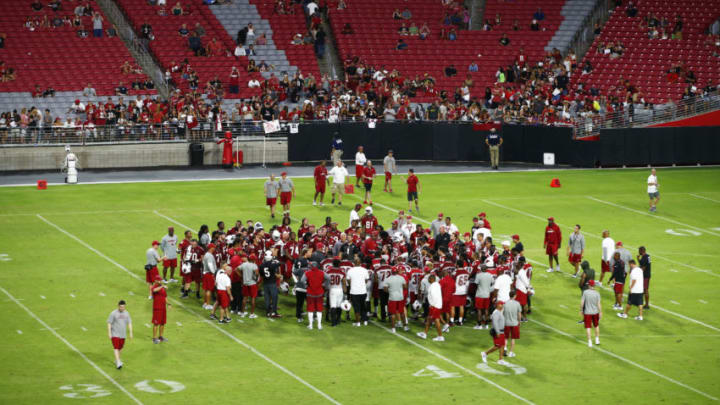 Jul 22, 2017; Glendale, AZ, USA; The Arizona Cardinals huddle during the opening day of training camp at University of Phoenix Stadium. Mandatory Credit: Rob Schumacher/azcentral sports via USA TODAY NETWORK /
Why football was and is so addicting- and why Meggyesy believes the country needs it's "hit" of football
Meggyesy compared the physical struggle that must ensue at one point of the game to war. At some point in time during a war, a soldier would have to kill his enemy, no matter the cost. The same happens in football, well without the killing. It's the one-on-one desperation that those who don't play the sport never get a chance to experience. No other sport is like it in America- not even Rugby.
Those who play within "the box" (offensive, defensive linemen and linebackers) consistently know that you turn into almost a different person in order to get ready for what your body is about to partake in. We see this all the time, pre-game speeches or acts of fiery intent. Memories bring us back to
(see below),
and many others with near-barbaric ways to get pumped up before the game.
I think what Meggyesy was trying to get people to understand was what actually had to go through a player's mind. He has to accomplish his goal, no matter the cost- even if it ends up hurting or in the
extreme case paralyzing the opponent
on national television. It's probably why you see players come over after the trainers have gotten them to the cart to wish them well.  These are real people who for the most part genuinely care about their opponent as a person.
Also, have you ever noticed how even just watching the game is such an tiring thing to do, especially when the games are close? Being on the edge of your seat or in the stands is something that we're all addicted to. The adrenaline that watching a football game is exhilarating. As the late George Carlin put it,
""In football in the stands, you can be sure that at least 27 times during the game you were capable of taking the life of a fellow human being, preferably a stranger" -George Carlin, Scraps From the Loft, 1984"
Whether it's due to the good product the NFL is able to put forward most of the time, the amount of energy it takes to watch a game and absorb everything happening is almost a skill. Every Sunday we tune in to get our fix.
NFLPA tenure
Dave Meggyesy wasn't done with his persistent desire to help the players . He got hired by the NFLPA for what was supposed to be a short stint in 1981, but his work continued through the 1982 strike, and he finally retired in 2007. During his time he helped get former players more pay when they retired, especially those with serious injuries that ended their careers.
More from Raising Zona
He even had a small hand in establishing NFL free agency, something that has turned into one of the many ways the league keeps our attention year round and gives players a chance to control their destiny.
When it's all said and done, Dave Meggyesy may be forgotten.
It's hard to say that even 40-plus years from now that we'll remember what Dave Meggyesy did for the league off the top of our heads. However his proactive nature to stand up for those who were underrepresented will always be with us. It has helped encourage many to speak up against injustices and issues that have been present in their lives. It may have even been a part of Colin Kaepernick's story. Here's to these two men for their bravery and efforts to better the world they live in.