Arizona Cardinals final 2021 schedule prediction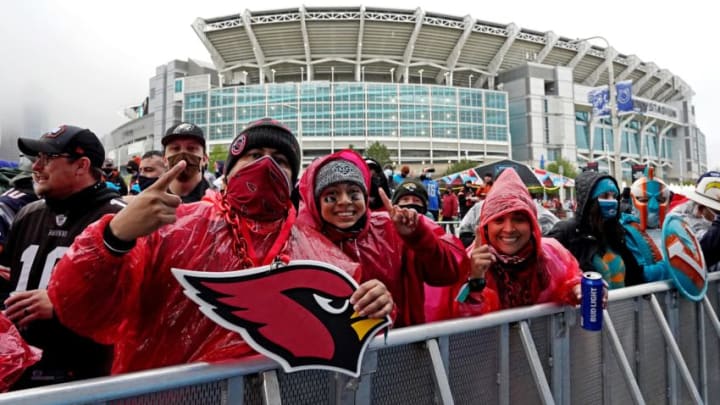 Apr 29, 2021; Cleveland, Ohio, USA; Arizona Cardinals fans cheer before the 2021 NFL Draft at First Energy Stadium. Mandatory Credit: Kirby Lee-USA TODAY Sports /
After getting the past four months to think about it, we will all finally know how the Arizona Cardinals schedule will play out on Wednesday.  The schedule will be released at 5:00 p.m. Arizona time.
How many national television games will they ultimately get? There have been a number of predictions on social media over the past several days surrounding the Cardinals game against the Dallas Cowboys in Dallas.
Could this be the year the NFL puts the Cardinals on the traditional Thanksgiving afternoon game in Dallas?  The best guess here is it won't happen, but you never know.
The last prediction I put out was guessing the Cardinals would be placed on the Monday Night Football doubleheader on opening weekend against the Houston Texans.  This prediction will stick with that.
Here's how I see it:
9/13 – vs Houston Texans (MNF)
9/19 – @Los Angeles Rams
9/26 – @Detroit Lions
10/3 – vs. Minnesota Vikings
10/10 – @Tennessee Titans
10/17 (bye)
10/24 -vs. Seattle Seahawks (SNF)
10/31 – @Cleveland Browns
11/7 – vs. San Francisco 49ers
11/14 – @Dallas Cowboys
11/21 – vs. Carolina Panthers
11/28 – @Chicago Bears
12/5 – vs. Indianapolis Colts
12/9 – vs. Los Angeles Rams (Thurs)
12/19 – @Seattle Seahawks
12/25 – vs. Green Bay Packers (Sat – Christmas day)
1/2 – @Jacksonville Jaguars
1/9 – @San Francisco 49ers
So, while I don't see the Cardinals being given the high profile Thanksgiving game, it is feasible to see the NFL send the Packers out to Arizona on Christmas.  That would seem just like the kind of game that would fall on the schedule late in the season.
The NFL lately has put perceived big games in December. Two seasons ago they sent the Pittsburgh Steelers out to Arizona in December.
The Cardinals schedule here gives a little balance and for most part keeps them out of cold weather, though Chicago in late November could be interesting. If the Cardinals don't get the Packers on Christmas day, it is still very easy to see that being some sort of national game if Aaron Rodgers remains as their quarterback.
Just a few days left until this all plays out.  Exciting times for the Red Sea.