3 reasons Sean Payton will be the Arizona Cardinals coach in 2023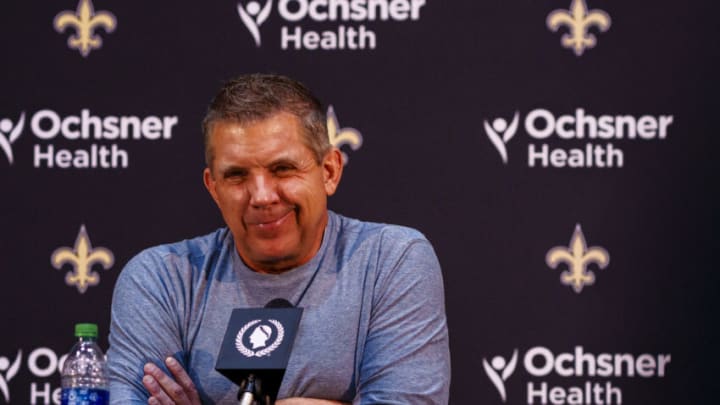 Jan 25, 2022; Metairie, LA, USA; New Orleans Saints head coach Sean Payton speaks during a press conference at Ochsner Sports Performance Center. Mandatory Credit: Andrew Wevers-USA TODAY Sports /
As time passes, more reports are swirling over Sean Payton's link to the Arizona Cardinals. But why would he come to the Sonora Desert? Let's discuss. 
Arizona Cardinals head coach Kliff Kingsbury has six games to get this right. Luckily for him, he will have his K1-Hollywood Duo back, which should help. It will also be the first time this season that Marquise Brown will line up across DeAndre Hopkins, which can forge a lethal one-two punch for the perpetually stagnant Cardinals offense.
But if Kingsbury can't get it done, then the Sean Payton Watch will only intensify. And here are three reasons you can expect Payton to be a viable coaching candidate in the Sonoran Desert should the Cardinals get rid of Kingsbury.
1 – Kyler Murray
While it's premature to call Kyler Murray a franchise quarterback, he does give the Arizona Cardinals something that's more established at the position than other teams like the Carolina Panthers, for example. Or even the Denver Broncos, as it is becoming more apparent quarterback Russell Wilson is past his prime.
Payton, a more experienced and accomplished NFL coach than Kingsbury, will better tailor his offense to fit Murray's skill-set. And that can go a long way in what will be the fifth-year quarterback's development.
2 – Arizona Cardinals can give Saints compensation
One downside to hiring Payton is that whoever wants to hire him MUST give the New Orleans Saints compensation, considering their former head coach's contract status. The Cardinals remain in better position to do this, as a team like the Panthers would be out of the running for obvious reasons, and the Broncos don't have enough to give.
That leaves the Cardinals, among other candidates who may want to talk to Payton about the job. They have enough draft capital, for example, to perhaps sway the Saints and give them what they want. And maybe a few other assets?
3 – Bidwill will give Payton what he wants
And finally, you can expect Michael Bidwill to give Sean Payton what he wants. Because here is the score: Your ancestors' franchise was run out of Chicago, and they were also run out of St. Louis. Why? Poor performances have continually led to disinterested fanbases.
And while I couldn't see the Cardinals skipping town, I can foresee colors of the opposite team filling State Farm Stadium. That said, if Payton wants full control, then it's time to break up this little fraternity he has going on with Steve Keim and give Sean Payton full control. Simply put, if it means even more dramatic changes, let them happen.
Bidwill, after evaluating Keim's job performance, should realize that. And when he does, he will give an established coach like Payton everything the guy needs to succeed. Even if it means firing your long-term general manager.
Article Source: Predicting NFL Week 12 upsets, plus weekly buzz, notes by Jeremy Fowler and Dan Graziano
Raising Zona /
Want your voice heard? Join the Raising Zona team!