Arizona Cardinals: Where Kyler Murray ranks among top picks at QB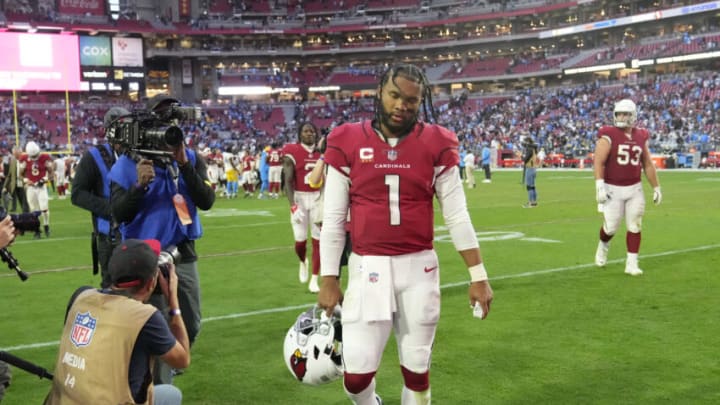 Nov 27, 2022; Glendale, AZ, USA; Arizona Cardinals quarterback Kyler Murray (1) walks off the field after losing 25-24 against the Los Angeles Chargers at State Farm Stadium. Mandatory Credit: Michael Chow-USA TODAY Sports /
Imagine a world where the Arizona Cardinals kept Steve Wilks and Josh Rosen for just one more season. Odds are, Joe Burrow would be wearing red and white. 
On Sunday, Cincinnati Bengals quarterback Joe Burrow beat Patrick Mahomes for the third time within a 365-day time span. Let me repeat: Burrow beat Mahomes three times within 365 days. Long story short, Joe Burrow is going to be the new face of the NFL either alongside if he does not outright surpass Mahomes.
And had the Arizona Cardinals, say, stuck with Wilks and Rosen for another season, something most sensible franchises would have done, they would have averted the Kliff Kingsbury/Kyler Murray circus. Why sensible? Few fire coaches and give up on quarterbacks after one season, and logic stated Wilks and Rosen should have had another season.
But unfortunately, Burrow is in Cincinnati and contending for Super Bowls in just his third season. Meanwhile, Murray is still trying to figure out how to win consistently in the NFL. You may blame Kingsbury, and he deserves a great deal of the blame, but it's like I've said so many times: He isn't the one throwing the football. 
So let's check out each quarterback drafted #1 overall between 2011 and 2020. Where does Kyler Murray rank among them and why?
1 – Joe Burrow, 2020, Cincinnati Bengals
Joe Burrow is the clear-cut winner here and it isn't even close. In just his second season, he took a wobbly 10-7 Cincinnati Bengals team that had one of the worst records in football just a season prior and led them to the Super Bowl. And when you think about it, a blown call cost the Bengals that game.
In 2022, Burrow and the Bengals are once again steamrolling toward the playoffs and possibly, another Super Bowl. All with a coach who won just six games in his first two seasons with the squad.
2 – Cam Newton, 2011, Carolina Panthers
Newton had perhaps the best season of any quarterback on this list in 2015. And unfortunately, his run to the Super Bowl consisted of upending the Arizona Cardinals 49-15 in the NFC Championship. While Newton's career tailed off shortly thereafter, he won MVP honors that year, and between 2013 and 2015, he led Carolina to three straight NFC South Championships.
3 – Andrew Luck, 2012, Indianapolis Colts
Luck retired at age 29, but before his abrupt exit, he was one of the league's best, and gutsiest quarterbacks. In his rookie season, Luck took what was supposed to be a terrible Indianapolis Colts team to the playoffs. Two years later, Luck and his Colts found themselves playing for the AFC Championship. During his final season in 2018, Luck won Comeback Player of the Year honors and again led the Colts to the playoffs following a 1-5 start.
4 – Jared Goff, 2016, Los Angeles Rams
Some may argue that Goff was the product of a good system in Los Angeles. But he still did his part in navigating the team to two NFC West titles in his five seasons with the club, including a Super Bowl appearance to cap off the 2018 season. Goff also led the Rams to the playoffs in 2020, before they traded him to the Detroit Lions for Matthew Stafford.
5 – Baker Mayfield, 2018, Cleveland Browns
Sure, Mayfield played like garbage in 2022, which led to his release from the Carolina Panthers. But he also threw 27 touchdown passes in 2018 set what was then a rookie record before Justin Herbert upended it in 2020.
Mayfield, while seeing his career regress significantly between 2019 and 2022, still led the Cleveland Browns of all teams to the playoffs before he scored an upset win over the Pittsburgh Steelers that season. His near-comeback win against the Kansas City Chiefs the following week nearly had Cleveland, yes, Cleveland, playing for the AFC Championship for the first time since 1989.
No, Mayfield was never anything more than above-average in his first five seasons, if that. He was a product of a system, but in that system, he at least won a playoff game.
6 – Kyler Murray, 2019, Arizona Cardinals
Murray may have won Rookie of the Year honors in 2019 with two Pro Bowl appearances in the years since, but he has done nothing to help the Arizona Cardinals win important games. He can be heroic at times, but there is no consistency here.
Somehow, he snaked his way into getting a huge contract extension before the likes of Lamar Jackson. And he's been (mostly) a flop ever since, going on Twitter tirades against ex-teammates, jawing with coaches and players on the sidelines, and simply underperforming.
7 – Jameis Winston, 2015, Tampa Bay Buccaneers
Winston is the only quarterback on this list to have never led a team to the playoffs, though he did see the postseason in 2020-21 as a backup. He played quarterback for what was a Super Bowl-caliber Tampa Bay Buccaneers team in 2019, but his 30 interceptions helped the Bucs stumble to a 7-9 record. He was let go in favor of Tom Brady, who reached the Stairway to Seven at age 43.
Overall, Kyler Murray is just one of two quarterbacks on this list to never win a playoff game, and one of three to never win a division title. Each quarterback mentioned that won a playoff game also did so by their fourth season.
It's safe to say the Arizona Cardinals are making yet another mistake at the quarterback position. Even if Murray is statistically better than the Matt Leinarts and Josh Rosens of the world, he's really right there with Jake Plummer. A quarterback who is good enough to be a starter in this league, win a few popularity contests, and not much more.
(Statistics provided by Pro-Football-Reference)
Raising Zona /
Want your voice heard? Join the Raising Zona team!